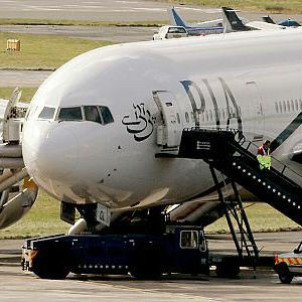 Two men whose alleged threats to blow up an aircraft and kill its passengers prompted the scrambling of RAF jets have been remanded in custody.
Tayyab Subhani, 30, and Mohammed Safdar, 41, both from Burnley in Lancashire, appeared at Chelmsford Magistrates' Court to be charged with endangering an aircraft.
The suspects were arrested at Stansted Airport after Pakistan International Airways flight PK709 from Lahore was diverted from Manchester.
They were charged with making false threats that the "crew and passengers would be killed and the aircraft blown up before landing which was false, misleading or deceptive".
Subhani, a taxi driver and supermarket employee and Safdar, a restaurant worker and married father-of-three, spoke only to confirm their names and addresses.
Their lawyers said they would deny the charge.
Magistrate Sarah-Jane Davies refused the defendants bail.
The pair were travelling home after attending the funeral of Safdar's mother, the court heard.
Wajid Hasan, Pakistan's high commissioner to the United Kingdom, said the two passengers "got into an altercation with air stewardesses and threatened to blow up the plane".
The flight attendants alerted the pilot who then contacted UK air traffic control authorities, Hassan said.
The Boeing 777, carrying 308 passengers, was shadowed into Stansted by an RAF Typhoon fighter, which escorted the passenger jet as it made its landing.
Essex police, who cover the Stansted area, said officers arrested Subhani and Safdar and removed them from the plane, which had 297 passengers aboard.
The plane later continued onto Manchester from Stansted after all the passengers and cargo were screened, a process that took about four hours, according to the high commissioner's office.
Passengers arriving at Stansted reported delays lasting several hours, with some calling the incident a "terrorist scare". Police have not mentioned terrorism in connection with the incident.
The suspects will appear at Chelmsford Crown Court on 5 August for a plea and case management hearing.
Endangering an aircraft carries a maximum sentence of life imprisonment.