Sophie Hitchon broke the British record for the hammer throwing, while Lynsey Sharp made it through to the 800m semi final in a successful day for Team GB's female track and field athletes.
Sharp finished second in her heat this morning, coming behind Beijing gold medallist Pamela Jelimo with a time of 2:01:54.
She admitted that the atmosphere was somewhat overwhelming at Olympic Park, saying after the race: "I have tried to block it out, but the media haven't helped. Thanks to my coach, he has prepared me so well.
"I have grown as an athlete in the last year. Today is a confidence boost, I have shown that my selection is warranted. I performed well and gave it my all, my goal [was] to achieve a personal best and get to the final."
She will now prepare for the semi-final of the 800 metre event, which takes place tomorrow night before the final on Saturday.
Meanwhile, Sophie Hitchon has made it into the women's hammer final, breaking her personal best by 37cm with her final throw for qualification, boasting a distance of 71.98 metres. It was still short of the 73 metre qualifying distance, but she came fifth overall with 12 athletes across two qualifying groups being given a final berth.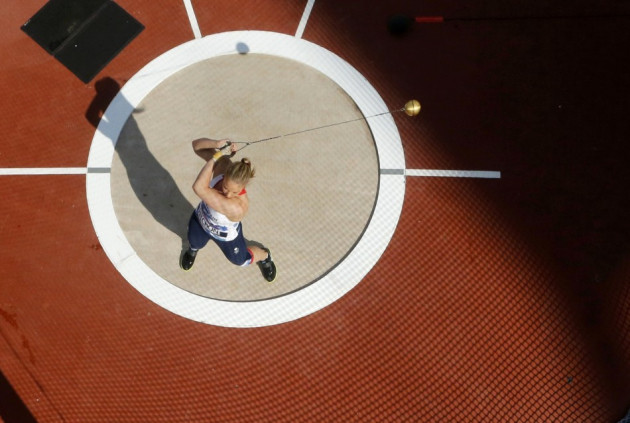 "I was just proud to be on the team and to come here at a morning session, with a full crowd and throw a PB and a British record, it was amazing.
"I did the same at the Europeans [leaving it to the last throw] and I don't know why. I like to put a lot of pressure on myself for some reason. I knew it was there, I've been throwing really well in training. I was ready and obviously it showed.
"I've never competed in front of a massive crowd like this and 90% of the whole crowd is cheering for you. Everyone just wants you to do really well."
The news wasn't so good for the Daniel Awde, who had to pull out of the decathlon after injuring his knee in the long jump.
Awde making a brilliant start, setting a new personal best in the opening 100 metre event.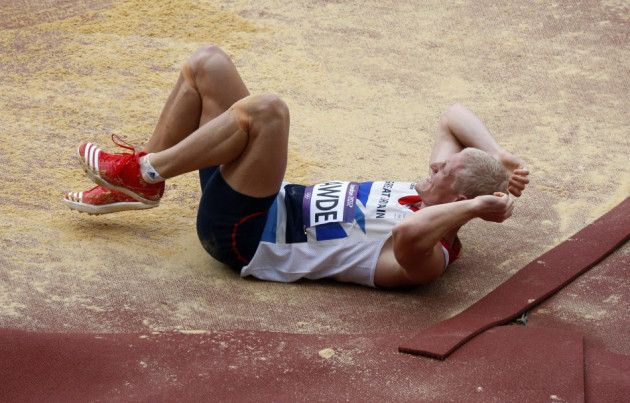 The Brit ran the race in 10.71 seconds, taking 0.14 seconds of his previous best, and sat in seventh place, 85 points off leader Ashton Eaton. But after the long jump, in which he dropped from seventh to 19th on the leader table, the star was clearly struggling with his left knee.
He eventually had no choice but to pull out, with the USA favourites to take out the decathlon gold.
Steve Lewis had better luck, reaching the pole vault final after clearing 5.50m. He didn't have to vault any higher as he was already into the final 12, and will now compete in the final on Saturday.