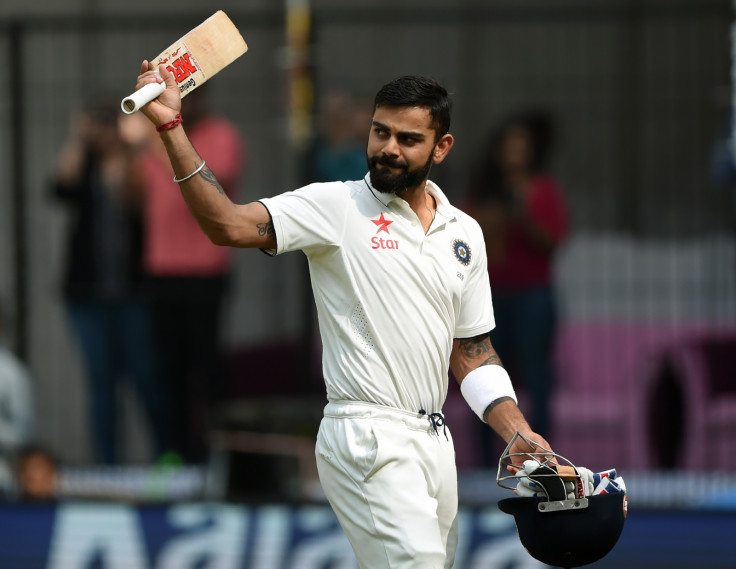 Several of Virat Kohli's teammates have leapt to his defence after the Indian cricket captain was dubbed "the Donald Trump of world sport" by an Australian newspaper.
A column published by Australia's Daily Telegraph on Tuesday (21 March) described Kohli as a "law unto himself" and complained that no-one was "holding him accountable for his continual perpetuation of fake news". They also claimed that Kohli "relies on a flagrant disrespect of his opponents and the game to fuel himself and his team" and stated that "soft cricketing administrators have given rise to a bat-wielding Trump".
Responding to that comparison, batsman Yuvraj Singh told India today: "It's a big compliment for Virat if Aussie media is comparing him with Trump. It means he is the best."
Cheteshwar Pujara also weighed in on the issue yesterday, saying: "It's really sad to hear such comments. We fully support Virat and he is one of the great ambassadors of this game. I think the focus has shifted somewhere else which should not have happened. We are very much focused on the game.
"He is a great leader and a great ambassador for the game. So, we are fully supporting him and we are looking forward for the next game rather than worrying about anything else."
Such strong criticism of Kohli arose in the aftermath of the third instalment of an intense and hostile four-match Test series between India and the Baggy Greens, in which Steve Smith alleged that Kohli "had a go" at him for supposedly disrespecting Australia-born home physiotherapist Patrick Farhart.
The Aussie skipper was later accused of mocking an injury suffered by Kohli on day one when he appeared to hold his shoulder after taking the catch that led to his rival's dismissal in Ranchi. However, a different camera angle later proved that the hand in question actually belonged to teammate Peter Handscomb. Kohli celebrated the wicket of David Warner by clutching his own shoulder in mock pain after Glenn Maxwell appeared to do likewise upon saving a boundary.
DRS controversy
Significant controversy also erupted during the second Test, when Kohli accused Australia of looking to their dressing room for help on three occasions before deciding whether or not to use the decision review system (DRS) – something that is not permitted. Smith subsequently admitted to one instance of "brain fade" and acknowledged that he should not have looked off-field for assistance.
Kohli stopped short of accusing the tourists of cheating, although he did say there is a "line that you don't cross on a cricket field". The Board of Control for Cricket in India (BCCI) initially submitted a complaint to the International Cricket Council (ICC), but later withdrew it. Cricket Australia chief executive James Sutherland said he "found the allegations questioning the integrity of Steve Smith, the Australian team and the dressing room outrageous".
Sutherland later joked that he is not sure if Kohli, who was later seen clapping after Smith wasted a final review on Pujara during the third day of the third Test, knows how to spell the word 'sorry'. Former Australia captain Michael Clarke, meanwhile, has labelled the Trump comparisons as a "load of s**t".
Asked how he manages such a range of emotions during a press conference held on Friday, Kohli said: "I have always stuck by the right things. Always done the right thing, always said what I wanted to because I feel it is right. I have no regrets about it. I have nothing to go back and change. The only thing - I am surprised so many people are getting affected by just one individual, so good luck to them. If it's selling their news, good luck to them."
With a feisty series currently tied at 1-1, tensions are likely to come to a head in the fourth and final Test in Dharamsala this weekend. Kohli, still suffering with shoulder trouble, will undergo a fitness test tomorrow to determine his availability for that decider. He says he will only play if he is 100% and Shreyas Iyer was recently added to the squad as cover.