Former presidential candidate, Senator Ted Cruz, has said the court decisions to halt Donald Trump's executive order temporarily banning refugees and citizens from seven majority Muslim countries were "utterly lawless".
During a conversation at the Conservative Political Action Conference (CPAC), Cruz said that the decisions did not cite the statute giving presidential power over immigration.
Cruz also said that the current Congress has the opportunity to be "historic", naming a few of the major changes he wants to see go through the Republican-controlled houses of government.
On stage with Mark Levin of the Conservative Review, Cruz told the cheering audience to hold politicians accountable, saying that the administration should push to bring in the platforms it was elected on and that it has the numbers in government to do so.
"Mark my words, Judge Gorsuch will be confirmed," Cruz said, telling the audience that a "strong conservative" Justice was important.
Cruz also lauded the current administration, calling it "the most conservative cabinet in decades" and "thanking" former Democrat leader Harry Reid for changing Senate confirmation rules, leading to the current cabinet being able to be to survive the confirmation process.
Along with getting a conservative Justice on the Supreme Court, Cruz listed major changes he wanted Congress to pass. These included repealing the Affordable Care Act, also known as Obamacare; passing fundamental tax reform, "ideally a flat tax", and passing legislation he himself has introduced to stop funding the United Nations.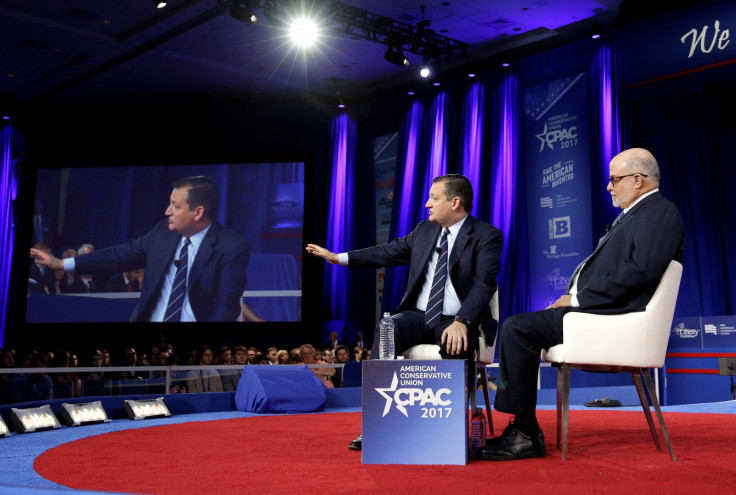 The Texas Senator said that Democrats were "in denial" and angry. "Right now, Democrat senators are more afraid of their base than the voters." Cruz said it was likely that Democrats would continue blocking anything proposed by Republicans, adding that the GOP needs "to look at tools to get things done despite a Democrat filibuster".
A number of members of the current administration, including Trump and Vice President Mike Pence, are speaking at the conservative conference taking place in Maryland just south of Washington DC.
In the weeks leading up to CPAC, the conference was the centre of a scandal within the US right wing. Controversial former Breitbart editor Milo Yiannopoulos was invited as a main speaker before being uninvited after a huge backlash against comments he had made allegedly supportive of paedophilia.