President Donald Trump is a true political outsider who has given new life to the conservative movement, said one of his top aides Kellyanne Conway on Thursday.
Conway spoke during the annual Conservative Political Action Conference (CPAC) which acts as a platform and meeting place for the dispersal of conservative ideas. This year many of the Trump administration's top figures are speaking, such as Vice President Mike Pence, and Trump's chief strategist Steve Bannon.
"Every great movement ends up being a little bit sclerotic and dusty after time," Conway said of US conservatives, adding Trump "went right to the grass roots and brought you along." Trump's message, she said, "seems to be very resonant with CPAC" and that "he's a first candidate of his type."
Trump was an outsider in the Republican Party during the 2016 election due to his show of support for gays and lesbians and accusations of sexual assault that arose against him.
Trump has tempered those views and backed abortion and laws against transgender people in a turn toward more traditional conservative values. As a candidate, Trump was able to carry states that Republican's hadn't won for decades because of conservative backing, said Conway, who served as Trump's campaign manager, adding "we really owe it to all to you."
Conway said that conservatives are used to feeling " like you're in the ideological minority" and thanked the conference members for "the courage you showed." President Trump, she said, " is not someone who is fully understood."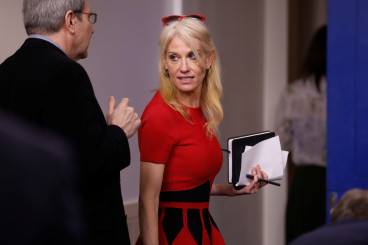 She stressed the importance of outreach in the coming four to eight years and urged conservatives not to live online, but to spread their values: "write a letter to the editor, become a blogger," she said, urging them to speak to people.
When President Trump addresses the conference on Friday, she said, he will transform it into 'TPAC', rather than CPAC.
"CPAC is uplifting, Kellyanne's speech was fantastic. I really think that she is someone to look up to – a mentor not only for young women, but all conservative women," said Ashley Carter from the Independent Women's Forum. Carter cited that Conway was the first successful female campaign manager "and that's something that we need to look up to despite the left ignoring that fact, she is breaking barriers for all women."
On Wednesday (22 February) Conway refuted claims that she had been sidelined in the administration after she made a series of incorrect statements in television appearances. She shot back at her critics on Wednesday during an appearance on Fox News' Hannity.
Most recently she said National Security Adviser Michael Flynn had President Trump's "full confidence" just hours before he was forced to resign, leaving Conway red-faced. Her soundbites about 'alternative facts' and the 'Bowling Green massacre' have also turned up in comedy shows.
"There are some people, I think, trying to get in my way," Conway said on Hannity. "I've also gobbled up a lot of other people's TV opportunities so there's some resentment on the outside, I believe, and folks just trying to use me as clickbait in a headline."