Police in Melbourne, Australia have shot dead an 18-year-old carrying an Islamic Flag who arrived at a police station for an interview and then attacked them with a knife. Following the man's death police checked his vehicle for explosives but nothing was found.
The incident comes as tensions in Australia rise following the raising of the terror level and raids on suspected IS sympathisers in Sydney and Brisbane.
The teenager, described by police as a known extremist who was under police surveillance, arrived at the police station in the Melbourne suburb of Endeavour Hills. He met two members of a joint counter-terrorism team, a Victoria state police officer and Federal Police Officer, and the meeting began amicably, with the men shaking hands.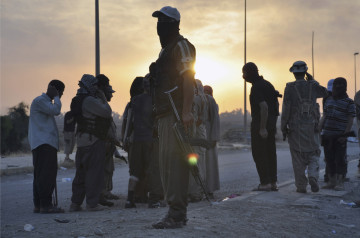 However Victoria Police assistant commissioner Luke Cornelius said the man became aggressive and stabbed the two men. "Our members had no inkling that this individual posed a threat to them. It's absolutely clear to us that our members really had no choice other than to act in the way in which they did."
Police would not confirm if the dead man - who has not been named - made specific threats against Australian PM Tony Abbott, as described by onlookers, or if intelligence received that he had been carrying an Islamic State flag had been verified. Local media reported residents saying he had flown an IS flag in his home.
Tensions in Australia have risen in recent weeks, with Abbott warning that Islamic State would try and commit terror attacks on Australian soil. The country has also sent combat troops to the Middle East to join the coalition against IS.
Last week anti-terror officials carried out a number of raids having apparently received intelligence that IS sympathisers were preparing to snatch an innocent civilian from the streets, behead them on video and wrap them in an IS flag. It is not known whether this attack was linked to the raids, but it is understood that the man's passport had recently been cancelled.