Teenage girls offer homeless man free Nando's - but instead mock him and leave without paying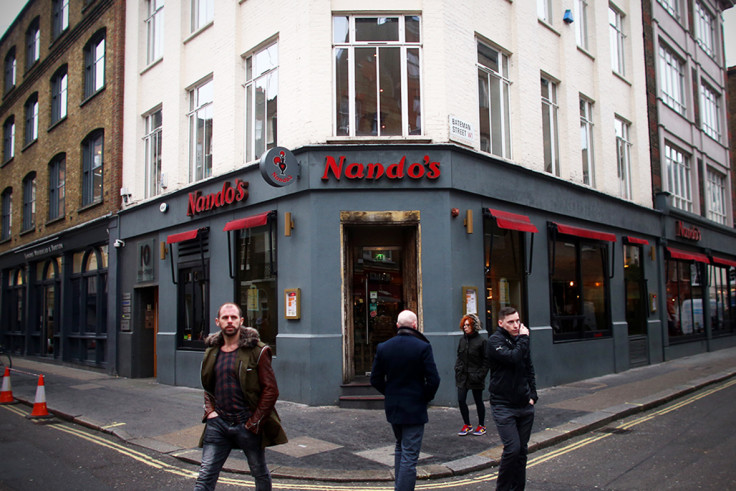 KEY POINTS
Witnesses say three girls filmed and taunted a homeless man after offering to pay for a meal.
Facebook user Sarah Cudmore posted a picture of the incident online and now claims to have been threatened by the girls' family.
Three teenage girls have been condemned on social media after they took a homeless man for a free meal but left the restaurant without paying.
The trio, believed to between 16 and 17 years old, allegedly walked into Nando's in Woolwich with the unnamed man in tow and told him to sit down while they ordered his food. Shocked diners at the busy restaurant watched on as they laughed and left him alone without settling the bill.
Witness Sally Cudmore was so offended by events she took a picture and posted it to Facebook last night (January 3). It was shared over 1,500 times but has since been deleted. Her post read:
"I can't believe what myself and other people just witnessed in Woolwich this evening.
"Three loud girls came storming in with their cameras filming and taking pics of a homeless man strolling along behind and they were saying 'We are going to pay for your dinner and buy you Nando's.'
"They told the man to sit down and the three girls went to the counter and talked to staff.
"They then ordered his food and they went outside for a cigarette. He asked what did you order?
"And they kept laughing, everyone in Nando's were looking at them because of how loud they were being and this bright flash they had from their phones recording what was happening."
Cudmore, who has previously appeared on live TV as a psychic, claims she been threatened by members of the girls' families who dispute her account of events.
One of the girls said the homeless man had been pestering her friends that evening and they went into the restaurant to get away. According to The Sun, she said:
"I told him to leave me alone and my friends and he started telling my friend how he would do things to her so I walked into Nando's walked to the bar and told the man we are pretending to order food so the man leaves us alone and the man on the counter went along with it."
However, other Facebook users who claimed to have been present have backed up Sally's claims. Some say the girls continued to harass the homeless man outside the location afterwards.
In a later post Sally said she took down the photo due to the the group's age but reiterated that they should be ashamed of their "cruel" actions.
"The truth will come out in the end. I just think there are some vile people in this world and makes you lose faith in humanity!", she said.