The West and Iran may be attempting to put aside their mutual mistrust to deal with Isis - now known as Islamic State - in neighbouring Iraq, but judging by one of Iran's most popular channels there's still a long way to go.
Islamic Republic of Iran Broadcasting (IRIB), the Republic's version of the BBC, has broadcast an interview with prominent cleric and professor Valiollah Naghipourfar. Naghipoufar, a cleric and professor at Tehran University, launches an extraordinary attack on Jews, alleging they use sorcery to undermine the Iranian state.
On being asked by his interviewer "Can jinns be put to use in intelligence gathering?" Naghipourfar replies: "The Jew is very practiced in sorcery. Indeed most sorcerers are Jews." In Islamic mythology jinns are tiny supernatural beings who can be either good or bad - and often choose to be naughty.
Iranian state TV has form when it comes to broadcasting anti-Semitic propaganda, down-playing or denying the Holocaust and claiming Israel uses the killing of six million Jews to manipulate world sympathy. Former President Mahmoud Ahmadinejad was reported as saying "Israel should be wiped off the map" - though later he said he was misinterpreted, claims supported by some interpreters of Persian. The IRIB's 24-hour news service, Press TV, also attracts its share of controversy, with presenters including George Galloway MP, who has refused to enter into debate with Israelis and does not recognise the country.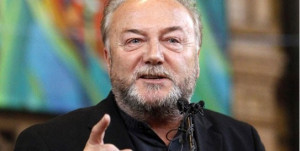 However within Iran there seems to be a widening gap between the arch-conservatives who control the country and an increasingly educated, affluent young people who are able to access the internet and international satellite TV. A poll by the Anti-Defamation League in May found Iranians as a whole as being the least anti-Semitic people in the region - with the obvious exception of Israel itself.
Whether many of Iran's young people will find time to watch a TV interview with someone claiming to be an academic who believes in pixies and the supernatural is debatable; but the fact such views are apparently common among Iran's hierarchy shows just how hard it will be for Iran and the West to find common ground - even when they have what seems to be a common foe in Isis.