Tens of thousands of Russians join Moscow 'Anti-Maidan' protest against Ukraine uprising
Organisers call for 'patriots' to join anti-revolution protests as John Kerry talks about more sanctions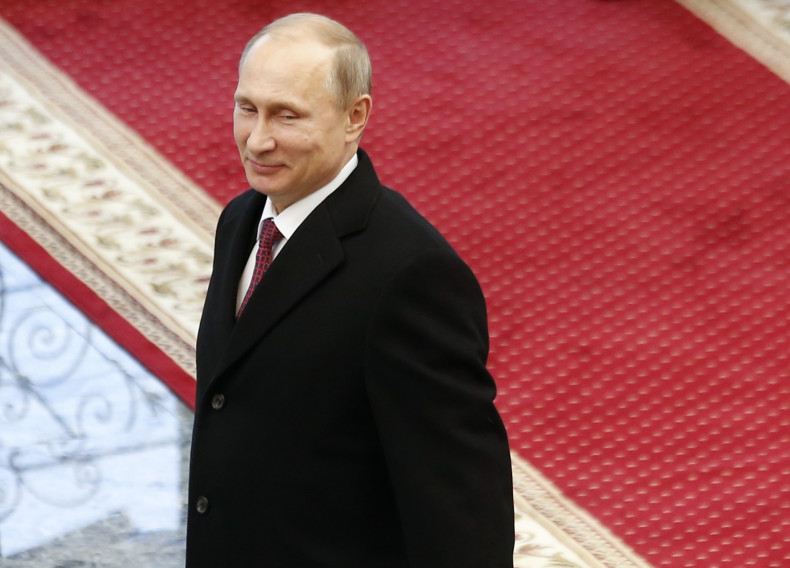 Pro-Putin demonstrations have taken place in Moscow today, marking the first anniversary of the crisis in Ukraine.
Activists in the "Anti-Maidan" movement marched to declare vehement opposition to a Ukraine-style revolt in Russia, according to reports from agency AFP.
The umbrella "Anti-Maidan" movement was set up earlier this year. It includes groups representing bikers, Cossacks, athletes and Russian veterans of the Afghan and Chechen wars.
Some of the latter have been fighting in alongside the separatists in eastern Ukraine.
Police have estimated today's turnout at 35,000 – a relatively small number of demonstrators.
The rally marks the anniversary of the deaths of dozens of demonstrators in the pro-Western uprisings which became known as the Maidan protests. Some of the today's marchers wore military uniforms, and many display the black-and-orange Saint George ribbon: a symbol of victory over Nazi Germany which the Ukrainian separatists have adopted.
"Ukraine's example has taught us a lot, and we won't allow a Maidan in our country," stated the organisers prior to the rally.
The crowd's fervour was obvious. One banner held by a female pensioner read "Putinism forever", while a group of Cossacks bore a placard: "The Maidan is a disease. We will treat it."
And another very large banner read: "Yankee go home and take the Maidan with you."
The Kiev uprising forced the Russian-backed president Viktor Yanukovych out of office last year.
Russia then annexed Crimea from Ukraine, and ever since has backed separatist rebels in the east of the country – although the Russian government denies this.
Nikolai Starikov, one of the Anti-Maidan movement's leaders, stated that the march is the movement's first big rally and that it is aimed at deterring the pro-Western opposition from plotting a similar coup in Russia.
"Don't even try. Don't make any attempts to rock the boat in Russia," he said during TV coverage.
The opposition in Russia is planning its own protest on 1 March against the Ukraine conflict and Russia's economic crisis, which has been worsened by Western sanctions. The protest is due to take place in sout-heastern Moscow, after authorities banned the activists from marching in the city centre.
Meanwhile, US Secretary of State John Kerry stated today in London that the US and its allies are discussing the imposition of more sanctions against Russia for its undermining of the European-brokered truce in eastern Ukraine.