Tens of thousands of people gathered in the capital city of Seoul to protest against the South Korean President Park Geun-hye on Saturday (12 November). It is believed to be one of the biggest protests in the country since its democratisation. The demonstrators are demanding the resignation of the scandal-hit president.
According to reports, a large number of police officers are being arranged to prevent demonstrators reaching the presidential palace. Police anticipations claimed that at least 170,000 people would turn out near City Hall and an old palace gate; however, protest organisers stated that up to one million people would come out on streets demanding the expulsion of Geun-hye.
The protesters have planned to start marching toward the presidential office Cheong Wa Dae at evening. They were initially banned by the police from entering the crossroads near Gyeongbokgung Station on subway line No. 3, but a local court earlier on Saturday approved the planned march, referring to the freedom of assembly.
"Considering the specific purpose of this rally, which is to convey the public voice to the president, the meaning Sajik street and Yulgok street hold is significantly different from what they meant for other rallies.
"The rally and march are not led by a specific interest group, but by the general public, ranging from adolescents and adults to the elderly who volunteered to take part," the Seoul Administrative Court said.
The South Korean president is accused of political scandal and allowing her friend, Choi Soon-sil, to access government documents without authorization. Choi, who was detained last week, is accused of trying to extract large amount of money from the country's companies and is under arrest on charges of fraud and abuse of power.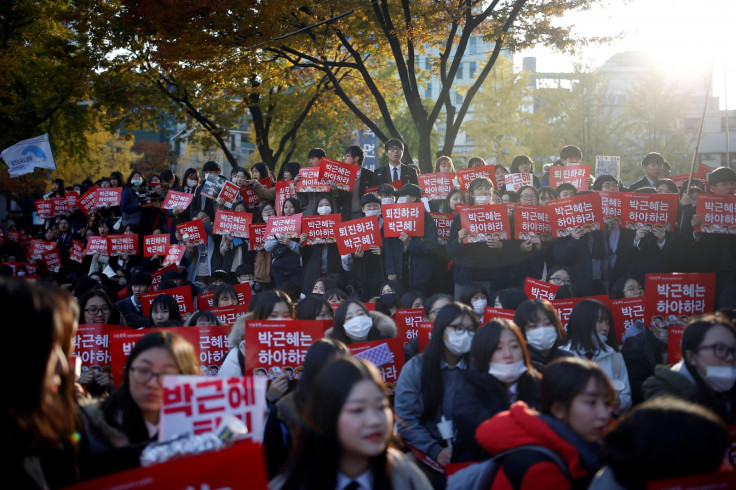 Following the revelation, Geun-hye has issued several apologies to calm public anger and have also agreed to surrender some of her extensive executive powers. She said that she "put too much faith in a personal relationship and didn't look carefully at what was happening".
"Sad thoughts trouble my sleep at night. I realise that whatever I do, it will be difficult to mend the hearts of the people, and then I feel a sense of shame," the 11th president of South Korea said.
She also welcomed the investigations against her by prosecutors and stated that anyone found to have involved in any wrongdoing would be punished. Prosecutors have also claimed they are expanding their official investigation.
However, all these apologies and official procedures are not working in favour of Geun-hye and the public call for her to step down is growing.