Thousands of people have gathered in Burkina Faso's capital, Ouagadougou, to protest at the installation of the army's Lt Col Isaac Zida as interim leader following the ousting of President Blaise Compaore last week.
After 27 years Compaore stepped aside as leader of the landlocked west African country following demonstrations by up to a million people protesting against his attempt to remain in power. Campaore has fled to neighbouring Ivory Coast with his family where he is staying at a retreat in the coastal city of Assinie according to Al Jazeera.
However the announcement that the army would take control has not been welcomed by the demonstrators, who accuse Zida of "stealing" the revolution. One placard at today's protest in the central Ouagadougou's National Square compared the army chief to Judas Iscariot.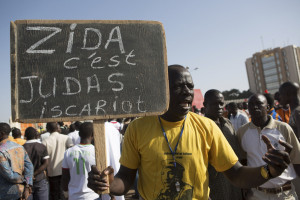 In a joint statement the groups calling for the army to stand down said: "The victory born from this popular uprising belongs to the people, and the task of managing the transition falls by right to the people."
The statement went on: "The victory of the popular uprising – and consequently the management of the transition – belongs to the people and should not in any way be confiscated by the army. Our consultation reaffirmed that this transition should be democratic and civilian in character."
In an ominous statement of intent the army has dissolved the country's constitution which states that in the event of the resignation of the president the head of parliament should take place and organise elections within 90 days. However, in a television interview in BFI TV Zida denied there had been a coup.
"This is not a coup d'etat but a popular uprising," he said. "I salute the memory of the martyrs of this uprising and bow to the sacrifices made by our people."
The United Nations and African Union have called on the army to stand down and allow the civilians of the country to choose a new leader or face the consequences. The military should "refrain from any acts or statements that may lead to further instability" said African Union chief Nkosazana Dlamini-Zuma.