Hundreds of protesters and police had descended on a Florida campus after a planned speech by avowed white nationalist, Richard Spencer, prompted the state's governor to declare a preemptive state of emergency.
Spencer is a prominent white nationalist and figurehead in the 'alt-right' movement that featured at events in Charlottesville, Virginia in August which were marred by violence, racism and the death of a woman protesting the far right attendees.
When it came time for Spencer to speak, reports say protesters drowned him out until he was unable to carry on and left the stage. Spencer's supporters were overpowered by protesters, with only a few managing to make it into the auditorium.
He said: "This is a great greeting. Thank you for the welcome. Are you ready to talk?"
But the public stood up, raised their right hands into fists and chanted: "No more Spencer! No more Spencer!" AFP reported.
Outside, demostrators chanting "Not in our town! Not in our state! We don't want your Nazi hate!" outside the Philips Center for the Performing Arts at the University of Florida where Spencer was set to speak. Though initially blocking Spencer's event, the university later agreed saying Spencer had a legal right.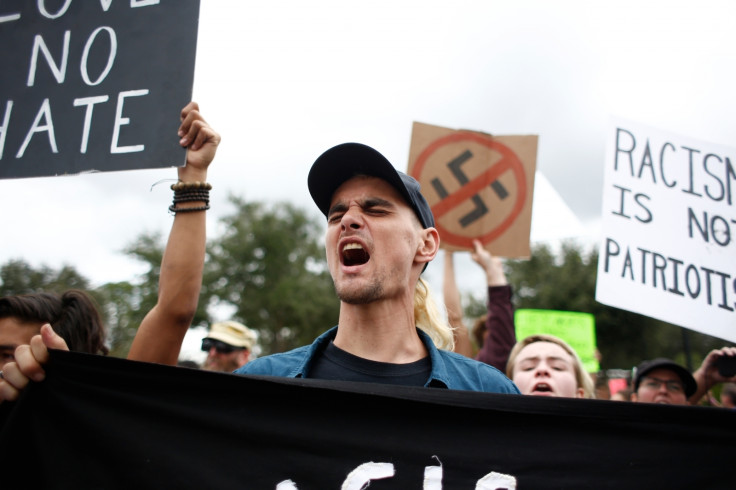 According to the university, $600,000 (£456,000) is being spent on extra security for the event. The National Policy Institute, Spencer's organisation, has reportedly spent $10,000 (£7,600) to rent the university facility.
University of Florida President, W. Kent Fuchs wrote on Twitter: "For the record, I don't stand behind racist Richard Spencer. I stand with those who reject and condemn Spencer's vile and despicable message".
Speaking to CNN, Fuchs said that the US constitution and Supreme Court were "crystal clear": "public universities are actors of the government and we cannot censor speech at public universities".
When asked what value Spencer's speech had to the university's students, Fuchs replied: "I think in reality his words have absolutely no value, they're not based on education, they're not based on scholarship and they are contrary to everything that this university and all of our great public research university have at the core, which is that we welcome people from all races, all ethnicities, even indeed all nationalities and certainly all religions".
On signing an executive order that gave extra resources to the county sheriff to handle security, Florida Governor Rick Scott said, "We live in a country where everyone has the right to voice their opinion, however, we have zero tolerance for violence and public safety is always our number one priority... This executive order is an additional step to ensure that the University of Florida and the entire community is prepared so everyone can stay safe."
On Wednesday 18 October, the university's Black Student Union released a statement urging students to "make decisions that are in your best interest tomorrow".
"We will overcome." the statement read, "This experience will only further unite us and constructively focus our energies into creating a better society for future generations."