The terrifying moment a bus topples over at high speed on busy motorway in China
Only one person was injured in the road traffic collision.
Footage has emerged of the terrifying moment a bus crashed on a busy Chinese motorway after colliding with another vehicle. The CCTV footage from 1 October shows the moment a bus, filled with sleeping passengers, is driving through Zhuzhou City in China's Hunan Province when the journey took a dramatic turn.
At around 1.55pm, the bus was hit by a white car, which is seen swerving uncontrollably to the left of the driver. The bus then toppled over, with footage showing luggage and people flying across the bus.
Remarkably, only one person on board suffered any injuries. CCTV shows a man with a blood-stained arm. It remains unknown why the car collided with the bus but officials put the lack of injuries down the the fact that most of the bus passengers were wearing seat belts.
Lan Feng, a police officer with the highway traffic police bureau of Hunan Province, said: "In the video, we can see that the female passenger in white clothes didn't wear a seat belt.
"The bus was driving very fast on the highway, and she was thrown out of her seat due to strong inertia when the accident happened. However, the passengers who wore seat belts were firmly fixed on their seats.
"The main function of the seat belt is that it can fix drivers and passengers when an accident happens, avoid the crash between people and other parts of a vehicle and reduce the damage to drivers and passengers."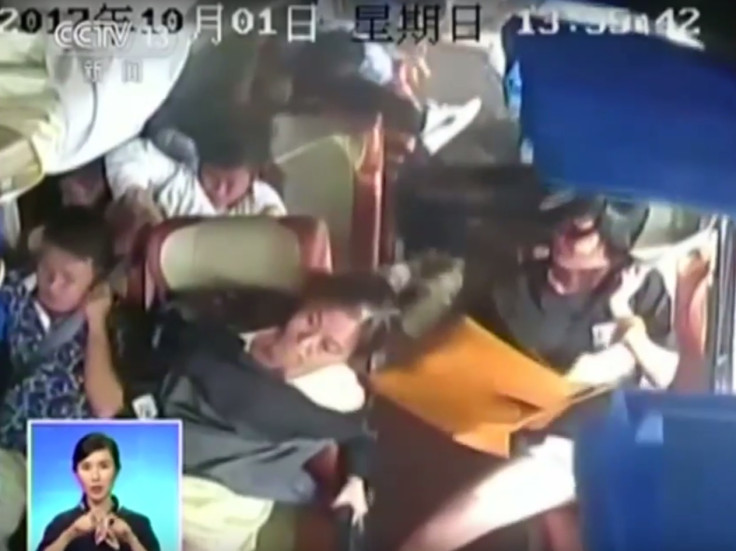 © Copyright IBTimes 2023. All rights reserved.