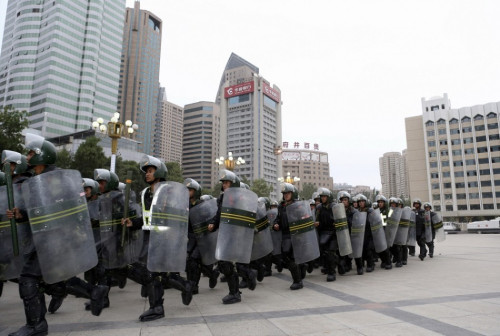 Chinese police have shot dead 14 people during a riot in the western region of Xinjiang, according to local government news sources.
Two policemen were also killed in the attack, carried out by a knife-wielding gang which also threw explosives.
It happened when attempts were made to arrest "criminal suspects" in a village near the old Silk Road city of Kashgar.
This represents another incident of unrest in the region home to a large population of Muslim citizens.
China has blamed past disturbances in the region on Islamist militants but Hua Chunying, the Ministry of Foreign Affairs spokeswoman, only went as far as blaming this riot on a "violent terror gang".
"It once again showed the true face of violent terror. It should be condemned by all people who love peace and stability," she said.
"This conspiracy does not enjoy popular support and is doomed to failure."
"Police responded decisively," the government said in a statement.
In addition, two people have been detained as investigations get underway, according to the official government news portal, Tianshan.
The incident comes after nine citizens and two policemen were killed last month when an armed group besieged a police station near Kashgar.
Xinjiang, which lies on the borders of India, Pakistan and Central Asia, has seen much unrest in recent years.
The Chinese government has been accused of repressing of Islamic culture in the region.