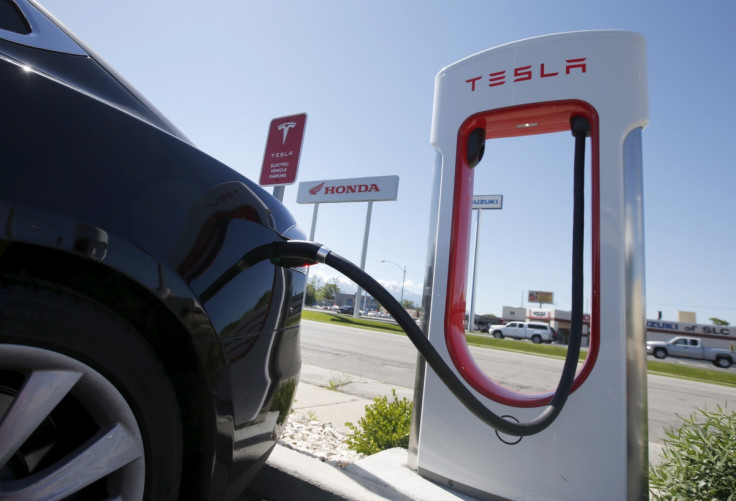 Tesla is to start charging for use of its Supercharger network from 1 January, 2017. Where previously Tesla owners enjoyed free use of the chargers, and could therefore drive effectively for free, next year will see the company introduce a credits system for paying for the chargers.
Every new Tesla sold from 1 January will come with 400kWh of free Supercharger use per year, which the company claims equates to around 1,000 miles of driving. After this has been used up, drivers will have to pay to use the Supercharger network. The cost of this has not yet been revealed.
In a blog post, Tesla said: "Beyond [the first 400kWh per year], there will be a small fee to Supercharge which will be charged incrementally and cost less than the price of filling up a comparable gas car. All cars will continue to come standard with the on-board hardware required for Supercharging."
As for whether the changes will impact current owners, Tesla said: "These changes will not impact current owners or any new Teslas ordered before January 1, 2017, as long as delivery is taken before April 1, 2017."
The company added: "We will release the details of the programme later this year, and while prices may fluctuate over time and vary regionally based on the cost of electricity, our Supercharger Network will never be a profit centre."
This move has been on the cards for some time, after company chief executive Elon Musk said the upcoming Model 3, the lowest-priced Tesla yet at around £35,000 ($43,000), will not get free Supercharger access. "Free Supercharging fundamentally has a cost," Musk said in September. "The obvious thing to do is decouple that from the cost of the Model 3. So it will still be very cheap, and far cheaper than gasoline, to drive long-distance with the Model 3, but it will not be free long-distance for life unless you purchase that package."
Tesla expects drivers to charge at home and at work, rather than relying on the Superchargers for everyday top-ups. Instead, it has previously asked that drivers only use its free chargers when travelling long distances, and instead to charge elsewhere for the daily commute.
"Just as you would charge your cell phone, we believe the best way to charge your car is either at home or at work, during the hours you're not using it," Tesla said. "As we approach the launch of Model 3, this update will enable us to greatly expand our Supercharger Network, providing customers with the best possible user experience and bringing sustainable transport to even more people."