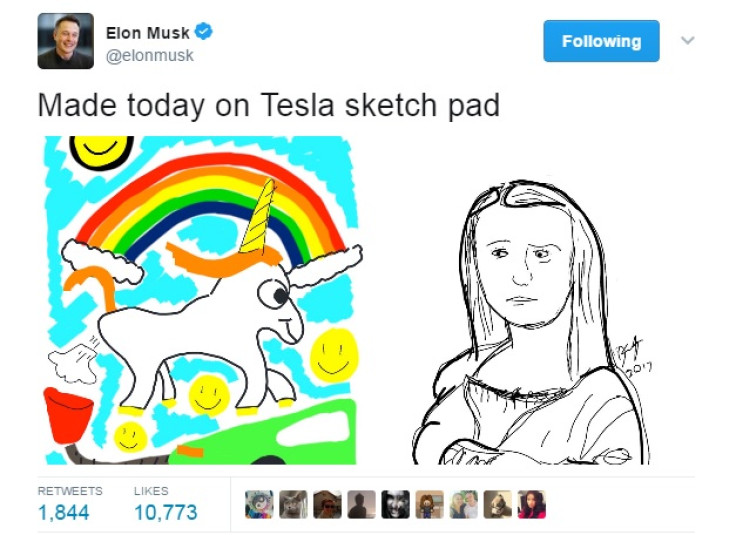 As well as adding several large improvements to the Autopilot self-driving suite and making tweaks to the user interface, the latest Tesla software update adds a digital sketch pad to the car's touch screen display.
Tesla and boss Elon Musk are well known for making fun additions to the car's software, known as Easter eggs. Other examples include modifying a representation of the road ahead to look like the Rainbow Road track from the Mario Kart video game, and changing an image of the owner's car to James Bond's amphibious Lotus Esprit.
Tapping the Tesla logo at the top of the dashboard display three times launches the new sketch pad, where owners can doodle with their fingers in various colours. Tapping the 'publish' button brings up the message: "Are you sure you want Tesla to critique your artistic masterpiece?". The options are: "No, the world isn't ready for my art" and "Yes, I am an artist!".
Although at first it wasn't clear if this was a joke or Tesla really does receive the drawings, Musk later tweeted two, claiming they were "made today on Tesla sketch pad".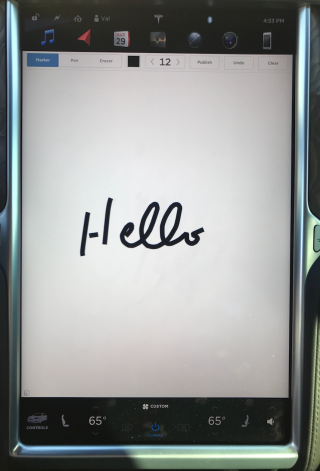 More seriously, the software update, called version 8.1, also made some important changes to how the Autopilot system of newer Tesla cars works. Autosteer, which keeps the car in its lane on the motorway and can switch lanes when the indicator is activated, now works at up to 80mph (128km/h), up from 55mph.
This higher speed will only become available once each car has finished calibrating its cameras. This requires the owner to drive on well-marked roads over the course of several days.
Summon, which lets owners remotely drive their cars in and out of garages, is also now available on newer cars, albeit as a 'beta'. Before, Summon only worked on Teslas carrying the older, first-generation Autopilot hardware.
Cars produced since late-2016 are all fitted with second-generation Autopilot hardware, which will one day be capable of full autonomy, Tesla claims. But in the meantime Tesla has been working to 'teach' the new hardware and its extra cameras, meaning second-generation cars had lagged behind older vehicles. With ongoing software updates this will soon change.