Tesla Model 3 launch: Fanatics queue through the night to pre-order car they haven't yet seen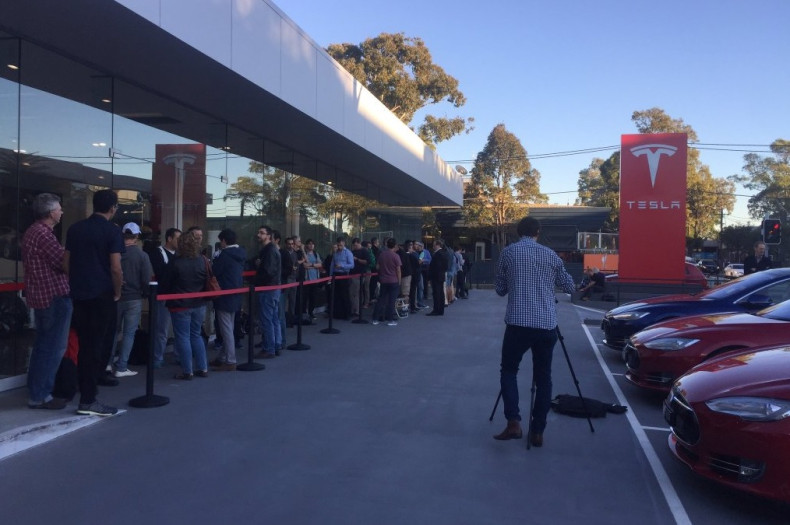 You would be forgiven for thinking the queues of wealthy, tech-loving early-adopters outside high-end stores in the early hours of the morning would signal the launch of a new iPhone.
But, while a new iPhone and iPad do go on sale on Thursday (31 March), these fans are waiting to put a deposit down for the Tesla Model 3 – despite not knowing what the car will look like, or exactly what it will cost.
The all-electric car is Tesla's first attempt to enter the mass market, as the Model 3 is expected to cost around £30,000, half that of the company's larger Model S saloon car. The Model 3 is expected to compete against the BMW 3-Series and Audi A4, yet have faster acceleration and a range of more than 200 miles.
Queues began at Tesla's Sydney, Australia store a full two days before Tesla began accepting pre-orders. One customer sat outside for 48 hours to make sure he would be first, and even then it could be a full two years before the first Model 3s will be delivered.
There was also a queue at Tesla's flagship UK store in West Drayton, near London Heathrow airport. Photos on Twitter showed at least 17 customers – all men – waiting for the pre-order system to go live at 8.30am; they will be asked for a £1,000 deposit to secure one of the first Model 3s to arrive in the UK.
Tesla CEO Elon Musk will host a media event at the company's Hawthorne, California design studio at 8.30pm local time (4.30am, 1 April BST), where the Model 3 will be revealed for the first time. Musk says the event will be part one of two, with the second event coming much closer to the car's 2017 release date. It is understood that a select group of Tesla customers will be invited to briefly drive the Model 3 at the event. An online pre-order system will open after the car has been revealed.