After months of rumours, teases and anticipation, Elon Musk will finally revealed the Tesla Model 3 later today, 31 March. The event, with select press and customers in attendance, will take place at the company's design studio in Hawthorne, California and will offer the world its first look at Tesla's newest electric car.
Priced at around £30,000, the Model 3 will cost around half that of any other car Tesla has made before. It will go up against the BMW 3-Series and Audi A4 in a hugely competitive section of the market, a section where no electric car has been before.
A live video stream will be published on Tesla's website, where pre-orders can be placed during the event by those who haven't yet visited their local store to make a down payment.
Fans have already queued up overnight to place £1,000 pre-orders at their local Tesla store, despite not yet knowing what the car will look like, or exactly how much it will cost. Information leaked a day before the big reveal claims the Model 3 will have a zero-60mph time of less than four seconds and a range of some 300 miles, 50% than had been expected.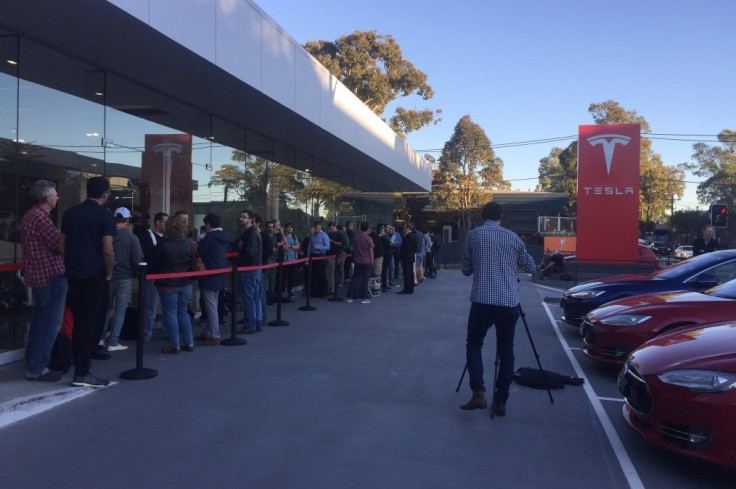 The event, which kicks off at 8.30pm local time (4.30am, 1 April BST), will see Musk reveal the car and, if rumours are to be believed, let attendees briefly drive the new car. Although orders can be placed now, the first Model 3s are not expected to be delivered until late 2017 or early 2018.
Musk said the event will be one of two scheduled for the Model 3. "Tomorrow is Part 1 of the Model 3 unveil", he tweeted. "Part 2, which takes things to another level, will be closer to production. You will see the car very clearly, but some important elements will be added and some will evolve."
Tesla is also rumoured to be working on another new car called the Model Y. This will use the same shorter chassis as the Model 3 (shorter than the Model S saloon and Model X SUV), but will be taller. No one is sure if Musk will reveal both cars at the 31 March event, but a photo taken by Wired Germany claims to show both vehicles under covers at the Hawthorne design studio.