Despite looking like a complete car and taking guests on a quick drive through the car park of Tesla's design studio, the Model 3 has a couple of huge surprises still up its sleeve. The first, company CEO Elon Musk has teased on Twitter, is an interior "like a spaceship".
The cars Tesla used to give brief rides to journalists and customers at the Model 3 launch event on 31 March looked finished on the outside, but left guests confused by their spartan interior. With no real dashboard or instrument cluster, the cars had no more than a steering wheel and a large horizontal touch screen.
Some assumed this was the finished article, while others believed Tesla was holding something back. Now, we have an answer from Musk, who tweeted during an impromptu question-and-answer session on 3 April: "Wait until you see the real steering controls and system for the 3. It feels like a spaceship."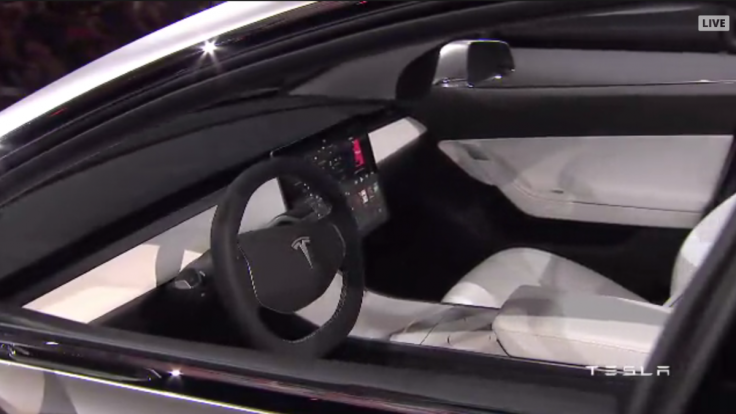 Another response by Musk explained how the lack of an instrument cluster "will make sense after part 2 of the Model 3 unveil." Musk said shortly before the launch event that it would be part one of two and now it seems clear that the Model 3's interior is important enough to receive its own event. He also explained that the current Model 3 steering wheel – described as ugly by many – "is not the real steering system."
This has prompted journalists and Tesla customers alike to wonder if the Model 3's interior will be designed with both manual and fully autonomous driving in mind. Currently, the Tesla Model S and Model X offer a system called Autopilot, which can take control of the car's accelerator, brakes and steering on the motorway. The cars can start and stop as required in traffic, steer around corners and switch lanes when the driver uses the indicator.
Musk has already said the Model 3 will include Autopilot hardware – suggesting a software update needs to be purchased as an optional extra to make the system work. But now it is being speculated that Autopilot on the Model 3 will be far more advanced – an interesting move for the company's 'budget' car, costing from £30,000.
Others claim the lack of instrument cluster means the Model 3 will have a head-up display (HUD) system for projecting the car's speed and other data onto the windscreen. Many cars already offer forms of HUD, which show the speed, gear, speed limit and satellite navigation instructions. It is likely that Tesla's system would include much more, such as graphics for the Autopilot system.
Replacing a conventional instrument cluster with a HUD would likely save on manufacturing costs and make it simpler to produce cars for left and right-hand-drive markets, as the rest of the dashboard can be symmetrical, with a touch screen in the centre and an HUD on either the left or right.