Potential Tesla Model S customers got their first chance to drive the new battery powered saloon car from the electric car manufacture Tesla, ahead of it being delivered next year.
Tesla opened its factory doors to customers who have placed preorders for the $57,400 (£36,900) 4-door saloon, which can cover up to 300 miles on a full charge.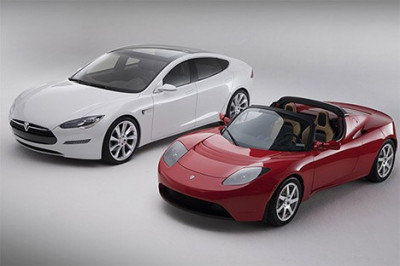 "We need your help," Tesla chief executive Elon Musk, a co-founder of PayPal, told potential customers at the Fremont California factory. Aside from asking the customers what they think of electric cars, Musk also announced an upcoming faster Model S that can accelerate from 0-62mph (0-100kph) in just 4.5 seconds, a full second faster than the standard Model S.
Once deliveries of the Model S begin in 2012 the current Tesla Roadster - with its base price of $109,000 (£70,100) - will be phased out to allow the company to concentrate on the saloon, as well as an upcoming SUV called Model X, which is due on sale in late 2013.
The Model S will come in three versions which will have respective ranges of 160 miles/257km, 230 miles, 270km and 300 miles/483km.
Palo Alto based Tesla will be hoping that the Model S, with its lower price and wider appeal than the Roadster, will see the company return to the black and start making a profit again after years of losses.
The electric can manufacture has a wide range of financial backers, including venture-capital firms Draper Fisher Jurvetson and Vantage Point Capital Partners, as well as Silicon Valley heavyweights like Google sounders Sergey Bring and Larry Page. The company also won a $465 million (£299 million) loan guarantee in 2009 from the US Department of Energy.