Since reintroducing the death penalty in 1982, the US state of Texas has executed exactly 500 prisoners on Death Row.
On 26 June, 2013, Kimberly McCarthy became the 500th inmate put to death in Texas after been found guilty of the 1997 murder of a 71-year-old Dallas woman.
In her final statement before being given a lethal injection, McCarthy, 52, said: "This is not a loss. This is a win. You know where I'm going. I'm going home to Jesus. I love you all ... God is great."
Since 1982, the final words of every death row inmate have been recorded by the Texas Department of Criminal Justice and all 500 are available to view online.
The database reveals a chilling insight into what goes through the mind people who know they are about to die. The recorded last words range from people begging forgiveness for their crimes to fervently declaring their innocence.
Others took the chance to condemn the policy of execution, whereas as the majority appear to thank God and express their love to their family. Many decline to make a final statement.
Below are a collection of hair-raising examples of final words from the Texan state which has executed more inmates than any other in the US.
"I hope that one day we can look back on the evil that we're doing right now like the witches we burned at the stake."
Thomas Barefoot, 30 October, 1984 (Convicted of murdering a police officer who tried to arrest him over rape of three-year-old girl)
"Yes sir, Warden. Okay I've been hanging around this popsicle stand way too long. Before I leave, I want to tell you all. When I die, bury me deep, lay two speakers at my feet, put some headphones on my head and rock and roll me when I'm dead. I'll see you in Heaven someday. That's all Warden."
Douglas Roberts, 20 April 2005 (Convicted of kidnapping, robbery and murder of 40-year-old Jerry Velez)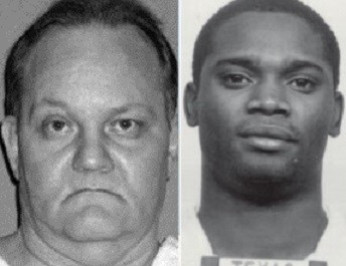 "To all of the racist white folks in America that hate black folks and to all of the black folks in America that hate themselves: the infamous words of my famous legendary brother, Matt Turner, 'Y'all kiss my black ass.' Let's do it."
Brian Roberson, 9 August 2000 (Convicted of murdering 79-year-old man in Dallas)
"I am innocent, innocent, innocent. Make no mistake about this; I owe society nothing. Continue the struggle for human rights, helping those who are innocent, especially Mr. Graham. I am an innocent man, and something very wrong is taking place tonight. May God bless you all. I am ready."
Leonel Torres Herrera, 12 May, 1993 (Found guilty of shooting dead a police office after he pulled him over for speeding)
"Let's do it, man. Lock and load. Ain't life a [expletive deleted]?"
G.W Green, 12 November, 1991 (Killed a reserve deputy sheriff while burgling his home in Magnolia)
"I am sorry. I have always been sorry. It is the worst mistake that I ever made in my whole life. Not because I am here, but because of what I did and I hurt a lot of people - you, and my family. I am sorry; I have always been sorry. I am sorry. You look after each other. I love you all. Be there for one another. Alright. But I am sorry; very sorry. I love you too. Alright."
Sean Derrick O'Brien, 11 July 2006 (Convicted of kidnapping, sexually assaulting and strangling two teenage girls)
"There are people all over the world who face things worse than death on a daily basis, and in that sense I consider myself lucky. I cannot find the words to express the sadness I feel for bringing this hurt and pain on my loved ones.
Joe F. Gonzales, 18 September, 1996 (Guilty of shooting dead 50-year-old William Vaeder)
"I'm ready to be released. Release me.
Kenneth Allen McDuff, 17 November, 1998 (Convicted of abduction and murder of female store worker)
"My death began on August 2, 1991 and continued when I began to see the beautiful and innocent life that I had taken. I am so terribly sorry. I wish I could die more than once to tell you how sorry I am."
Karl Chamberlian, 11 June, 2008 (Convicted of sexually assaulting and murdering his neighbour)
Bobby Wayne Woods, 3 December, 2009 (Executed for sexually assaulting and murdering 11-year-old girl and abducting and seriously injuring her nine-year-old brother)