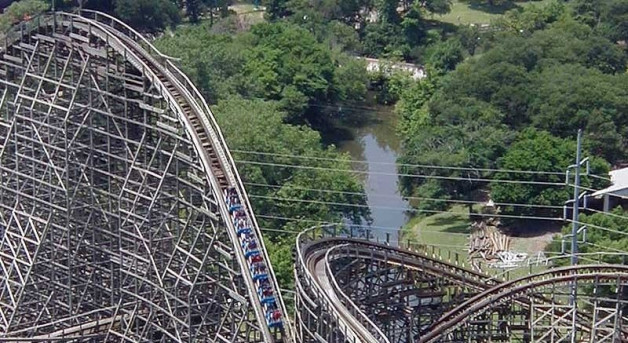 A woman has died after reportedly falling from the tallest hybrid-steel rollercoaster in the world as her son and fellow passengers looked on in horror.
A spokesman for the Six Flags Over Texas theme park in Arlington, Texas, confirmed that a woman had died on the Big Texas ride at 6.30pm on Friday 19 July, but did not release her name or details of the incident.
"Our thoughts and prayers are with the family and friends during this difficult time," the park said in a statement.
However, witnesses interviewed by local media claimed the woman fell from the ride when the safety bar securing her in the train released itself.
"She goes up like this, then when it drops to come down, that's when it (the safety bar) released and she just tumbled," Carmen Brown, who witnessed the accident, told the Dallas News.
Brown said she was next in line behind the woman and saw her being strapped into her seat next to her son and expressing concern to a member of the park staff that she was not fastened in securely.
"He was basically nonchalant," Brown said. "He was, like, 'As long as you heard it click, you're fine.' Hers was the only one that went down once, and she didn't feel safe. But they let her still get on the ride."
Once the ride was underway, Brown said the train took a sudden swerve and "We heard her screaming. We were like, 'Did she just fall?'"
John Putman of Rockwall told the Fort Worth Star-Telegram that he and his wife had been queuing for the ride when the train that had been carrying the woman returned and they heard two people screaming, "'My mom! My mom! Let us out, we need to go get her!'"
Arlington police have declined to comment on the incident.
The ride closed while an investigation into the death was carried out.
The Texas Giant is 14 storeys high, has a drop of 79 degrees and a bank of 95 degrees. It can carry up to 24 riders.
The ride first opened in 1990 as an all-wooden coaster, but underwent a $10m (£6.54m) renovation in 2010 to install steel-hybrid rails and 4,700 feet of new track before reopening in 2011.
Friday's accident is not the first fatality on one of the park's rides. In 1999 a woman drowned and ten other were injured when a Roaring Rapids raft capsized.