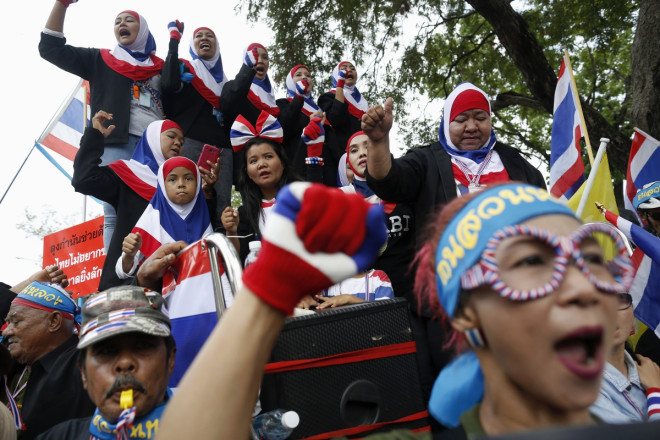 In a fresh revival of anti-government demonstrations in Bangkok, about 30,000 protestors marched across the city demanding the resignation of Prime Minister Yingluck Shinawatra, a day before senate elections.
The elections to the upper house of parliament can potentially decide Yingluck's political future.
She has to appear before the National Anti-Corruption Commission (NACC) to defend herself against negligence and oversight charges in her flagship rice subsidy scheme that incurred huge losses.
If the charges are upheld, she would have to face an impeachment vote in the senate. Sunday's elections will decide 77 out of 150 seats in the upper house.
The remaining unelected senators are appointed by institutions, which the government perceives as anti-Thaksin.
The protesters marched to the city's old quarter and a group of about 500 demonstrators broke into Government House, lying empty since the protests targeted state buildings.
"We think the crowd will swell to 50,000 people. Protesters are still trickling in from outside the capital and we have 8,000 police on standby if violence takes place but, overall, we're not expecting anything to happen," Paradorn Pattanathabutr, a security adviser to the prime minister, told Reuters.
"We will no longer accept this oppressive regime. They, Thaksin and Yingluck, are no longer welcome in Thailand," said protest leader Suthep Thaugsuban, while the protesters shouted "Yingluck, get out!".
Governance in Thailand is almost paralysed as Yingluck heads a caretaker government with limited powers.
The opposition is trying to install a temporary unelected government to oversee electoral reforms before fresh elections are announced.
"We will show our power to the government -- people will not accept elections without immediate reforms first," Suthep said at the rally.
Thailand has been grappling with instability since Yingluck's brother and former prime minister Thaksin Shinawatra was ousted in a 2006 coup, later forcing him into self-exile.
The violent protests in the last few months have claimed 23 lives and hundreds of others have been wounded in shootings and sporadic grenade attacks.
The country is torn between urban anti-government opponents and rural supporters of the Thaksin regime.
"I have come out to preserve democracy," protester Jirapa Tantingarmkasem told AFP.
"I ask everyone to come out to protest. Fight! Fight!"
The pro-Thaksin "red shirts" are not willing to step back either. The new leader of the party reportedly vowed to "fight tooth and nail" for Yingluck. A massive red-shirt rally is scheduled for 5 April.