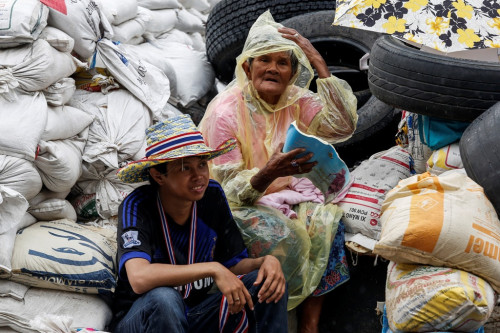 Thai prime minister Yingluck Shinawatra's caretaker government has secured a 17bn baht loan from the Government Savings Bank (GSB) to pay overdue rice farmers, under a rice-buying scheme that propelled Yingluck to election victory in 2011.
The GSB credit committee has approved the inter-bank loan to the state-run Bank for Agriculture and Agricultural Cooperatives (BAAC), which is responsible for doling out rice scheme payments, reported the Bangkok Post.
The borrowed cash should ease the pressure on the embattled government for at least a month, as the BAAC typically has the capacity to process payments of two billion to three billion baht a week. Farmers were to be paid in October 2013 for the main 2013/2014 crop.
However, former finance minister Thirachai Phuvanatnaranubala warned that the arrangement could run into legal issues.
The borrowing could be considered a bank loan rather than inter-bank lending. Thirachai suspected that the borrowing could violate Section 181 (4) of the constitution, which bars a caretaker administration from using state agencies' resources to boost its electoral support.
Funds Shortage
The caretaker administration needs 130bn baht ($4bn) to pay over a million farmers.
The government is trying its best to offload almost two million tonnes of rice by the end of next week, amid falling international prices and months of political turmoil.
"It's a real dilemma," said Nipon Poapongsakorn, distinguished fellow and rice expert at the Thailand Development Research Institute.
"The government has to sell, otherwise it won't have the money to pay the farmers and it will lose votes," Nipon told the Financial Times.
Thailand's political tensions flared up late last year when the government proposed an amnesty bill that would have absolved former prime minister Thaksin Shinawatra of corruption charges and allowed him to return from exile.
Anti-government protesters have been trying to oust Yingluck and install an unelected administration to pass political and economic reforms. They also want to dampen the influence of Yingluck's brother Thaksin, forced into exile in a 2006 coup.