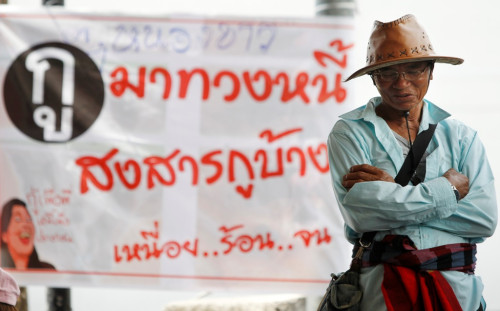 Thailand's failure to form a new government is fuelling a slow-burn budget crisis, with an expensive rice-buying scheme set to collapse and public investments that were to prop up Southeast Asia's second-largest economy coming under threat.
Anti-government protesters have succeeded in preventing a new administration from taking charge after the 2 February election. Prime Minister Yingluck Shinawatra has led a caretaker government since December 2013.
By law, a caretaker administration can get on with new investments only with the Election Commission's approval, and cannot begin work on projects that bind the incoming government.
According to the Budget Bureau, lawmakers should have drafted a budget outline by 28 January for the financial year starting in October 2014. Details should be debated in April and the budget sent to parliament in May.
However, with the opposition questioning the legality of the poll and dozens of by-elections needed to fill vacant seats, it could be weeks or even months before Bangkok has a proper government.
Rice-Buying Scheme
At stake is a rice-buying scheme, a cornerstone of the populist platform that propelled Yingluck to election victory in 2011, which in recent weeks has nearly collapsed owing to cash issues.
The cost of the scheme, which promised farmers an above-market price, has triggered protests in Bangkok. Large banks have refused to offer bridging loans to keep it afloat, unsure if the government has the authority to seek them.
Some farmers have not been paid for their rice for months and the scheme lapses at the end of February when the current crop ends, reported Reuters.
Infrastructure Projects Delayed
Work on a two trillion baht ($61bn) infrastructure programme, to develop mass transit and high-speed rail networks is unlikely to begin this year.
State-owned Electricity Generating Authority of Thailand (EGAT), the country's largest power producer and operator of the national grid, has said a $515m infrastructure fund could be delayed if a new government was not formed soon.
Public investment and infrastructure account for about 30% of Thailand's cement demand, and large suppliers are worried.
Brokerage Thanachart Securities has slashed its economic growth forecast for 2014 to 2%, from 3.2% because of the likely drop in government spending alongside delays in both public and private investment.
"The fiscal budget plan has not started yet. We haven't seen this situation before," Manas Jamveha, director general of the Comptroller General's Department, told Reuters.
"We have to wait for a new government and its policies before proceeding on a budget framework," Jamveha added.
"If the government is unable to approve new infrastructure projects, new public spending will not happen. That will drag down the overall sector," Kan Trakulhoon, chief executive of Siam Cement, told the news agency.
"These payment problems stem from the dissolution of parliament, which made it difficult under the framework of the law to approve payments," Yingluck told reporters on 5 February. "Whether this scheme is extended or not is up to the next government."
Anti-government protestors have been trying to oust Yingluck and install an unelected administration to pass political and economic reforms. They also want to dampen the influence of Yingluck's brother, former premier Thaksin Shinawatra, who was forced into exile in a 2006 coup.