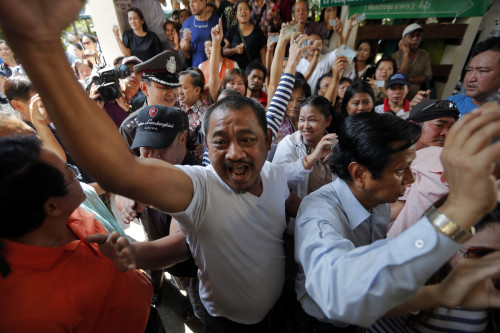 Thailand's main opposition party is to mount a legal challenge against a snap poll which is likely to return Yingluck Shinawatra as prime minister.
The Democratic party, which boycotted the poll, is collecting evidence in the hope of mounting a legal challenge over the election and will lodge a petition to the court soon "through various channels," deputy leader Ong-art Klampaiboon said, according to The Nation.
The party has also called for the revocation of the state of emergency in Bangkok and nearby provinces.
"The election is held and it has been proven that people's rallies have not created any violent incidents, or state of emergency. The Emergency Decree is no longer necessary," Klampaiboon told the newspaper.
The government declared a 60-day emergency in January following a spike in violence in the ongoing anti-government protests spearheaded by the opposition People's Democratic Reform Committee (PDRC).
Yingluck's Victory
The caretaker government, led by Yingluck, claimed "victory" in the wake of the elections, with polling taking place in nearly 90% of the 375 constituencies.
Yingluck thanked security personnel and voters for "helping to maintain democracy" in the southeast Asian nation.
Although the snap polls went ahead without any violence, the overall turnout was low. According to estimates of the Election Commission (EC), out of the 48.7 million eligible Thai voters, about 12 million people (25%) did not turn up.
In some of the areas, the turnout was as low as 20%, significantly lower than in previous elections.
The counting has already been completed but the EC is withholding the results owing to logistical problems, notably the inability to conduct polling in certain areas. The results are expected to be announced towards the end of February.
Although the results are not yet announced, Yingluck's Pheu Thai Party is expected to secure an outright win.
Key anti-government leader Suthep Thaugsuban, who has been leading the protests since the crisis broke out, has said this was the "first time to have so many eligible voters boycotting an election".
Thailand's political tension flared up late last year when the government proposed an amnesty bill that would have absolved former prime minister Thaksin Shinawatra of corruption charges and allowed him to return from exile abroad.
The Thai opposition accused Yingluck of running a proxy government for her brother, who was ousted in a military coup in 2006.
Yingluck withdrew the motion, announced the dissolution of parliament and offered to conduct fresh elections in February.