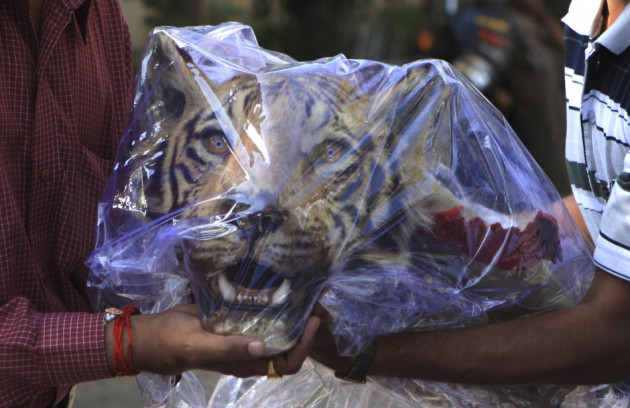 "There were four boxes, and each box contained one tiger skin, bones and a skull. Each one weighed around five kilograms (11 pounds)," Somchai Poolsawasdi, director general of Royal Thai Customs, told AFP.
The tiger parts were thought to have come from Indonesia and eventually were destined for China.
Poolsawasdi said the parcels, thought to be sent by a trafficking gang, were seized at Bangkok's main post office following a tip-off.
"The way they processed these tigers, I think they were meant for furniture or decoration," he added.
Anti-trafficking group Freeland warned that the poaching and trafficking of tiger meat, bones and skin was a key factor contributing to the endangered status of wild Asian tigers.
"The confiscation of these tiger skins and bones is commendable and has clearly hurt the criminals financially," said Tim Redford of Freeland.
"However, with so few tigers left in the wild, stopping any more ending up like this is vital."
The confiscated tiger parts were estimated to have been worth $60,000.
Numbers of wild tigers are estimated to have fallen to only 3,200 tigers worldwide, in comparison to 100,000 a century ago. The hunting and poaching of tigers has played a major part in their declining numbers, as well as the loss of habitat from expanding human populations.
Tigers now live in only 13 countries around the world, including Thailand, which is a hub of international smuggling of illegal tiger meat, bones and skin. As well as being used for decorative purposes, tiger bones are believed to have healing and restorative properties.
China is a large player in the illegal trade in tiger bones, where the carcasses are turned into a health tonic, dubbed "Tiger Wine."
The trade of tiger bones has been banned in China since 1993.