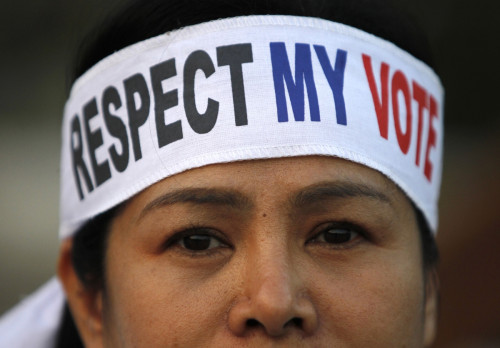 Anti-government groups in Thailand are gearing up for a final push on the eve of the scheduled snap elections even as supporters of interim prime minister Yingluck Shinawatra have also taken to the streets in Bangkok and other places.
As the caretaker administration is pressing ahead with the general election in a bid to resolve the weeks-long political crisis, the opposition groups have threatened to disrupt the polling to prevent Shinawatra from taking power again.
Insisting that she will exercise her right to vote, Shinawatra appealed to her opponents not to block the voting process. "I appeal to you not to block voting. Foreign countries will view Thailand as undemocratic."
On the other hand, protest leader Suthep Thaugsuban urged voters to boycott the elections and vowed to step up the opposition campaign.
Suthep said: "The people will not close the polling booths, but will demonstrate on the roads. They will demonstrate calmly, peacefully, without violence. If anyone comes to try to cause trouble, we absolutely will not argue with them. We won't do anything that will hinder people from going to vote."
"In the south, for those who are surrounding the places where ballots are being collected, surround them as usual, but I ask that you sit there peacefully, don't back down, don't run away, and do not fight them, just pray. I believe that this poll will be voided for sure."
Meanwhile, the UN has called for a peaceful democratic process in the country.
The main opposition party, the Democrat, which is behind the anti-government campaign, has refused to take part in the election process leaving the field clear for Yingluck's Puea Thai Party to take power again.
Supporters of the elections have also hit the streets raising the tensions in Bangkok. Scores of people turned up for the rally and stayed in tents overnight to thwart the opposition campaign.
Security forces fear the situation is volatile and clashes could erupt any moment.
Added security measures have been provided to political VIPs, including Yingluck, to prevent any untoward incident.