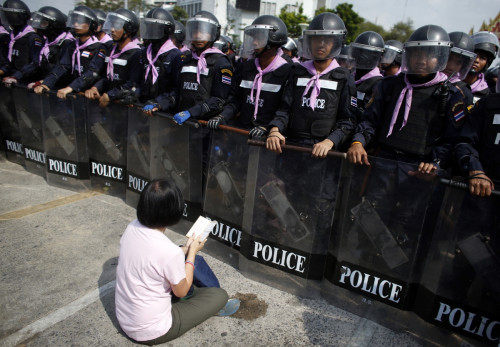 Thailand's gross domestic product declined significantly in the fourth quarter due to the ongoing political unrest in the country, and it expects further deterioration in growth under the current circumstances.
In the fourth quarter, Thailand recorded a growth rate of 0.6% from the previous quarter, when it expanded by 1.3% on quarter.
On a year-over-year basis, the fourth-quarter growth rate was 0.6%, compared to the previous quarter's 2.7%.
The weak growth was primarily due to a slump in private consumption and investment growth. In addition, both government spending and export growth slowed to drag down the growth.
For the full year 2013, the economy grew by 2.9%, down from 6.5% in the previous year.
The state planning agency cut its 2014 growth forecast for the economy to between 3.0% and 4.0% from 4.0% to 5.0% seen in November.
Political Unrest
Thailand, Southeast Asia's second-biggest economy after Indonesia, has recently witnessed anti-government protests at its capital Bangkok.
In order to end the crisis, the government in December decided to hold an election. The election that took place on 2 February was disrupted and a caretaker government is in place. It has only limited spending and borrowing powers.
"Political paralysis has started to manifest itself in the slowdown of domestic demand," said analysts at ANZ Bank.
"Looking ahead, the political impasse is threatening to derail domestic demand which accounts for more than 80% of GDP. Private consumption will be constrained by delayed payments of the rice pledging scheme and elevated household debt."
That is in addition to a decline in consumer confidence that has slumped to the lowest level in more than two years. Companies are delaying investments in the country due to political and economic concerns.
ANZ analysts said they are maintaining their GDP growth target of 3.2% in 2014, "largely on the back of an unfolding export recovery". Nevertheless, the forecast is facing downward pressures with infrastructure expenditure declining further into 2014.
"The longer the power vacuum lasts, the worse it will be for the Thai economy. Spending restrictions on the caretaker government leave it with limited ammunition to boost the economy," said analysts at Capital Economics.
"With domestic demand struggling, the external sector's performance will be key to Thailand's overall growth outlook. Goods exports should receive a boost as demand from advanced economies improves."