Hindu devotees in Malaysia are celebrating Thaipusam, a religious celebration dedicated to Lord Murugan, the god of war.
The annual celebrations take place on a grand scale at the Sri Subramaniar Swamy Temple inside the cavernous Batu Caves, north of Kuala Lumpur.
Devotees often pierce various parts of their body with silver skewers, and carry large contraptions known as Kavadi, thereby taking on a physical burden through which they beg for help from Murugan. Devotees also fulfill vows by carrying milk-filled pots up the stairs to the cave temple.
Although Malaysia is a majority Muslim country, there is a small but significant Tamil community within the population.
The festival is also observed in countries with a significant Tamil community such as India, Sri Lanka, Singapore, Indonesia, Thailand and Myanmar.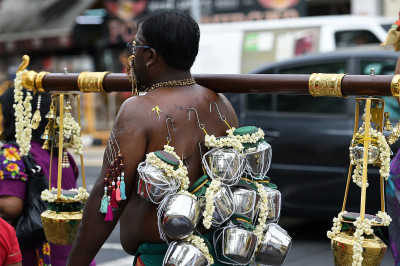 The exact date of Thaipusam, which changes each year in the Gregorian calendar, is based on the full moon day in the month of Thai in the Hindu calendar.