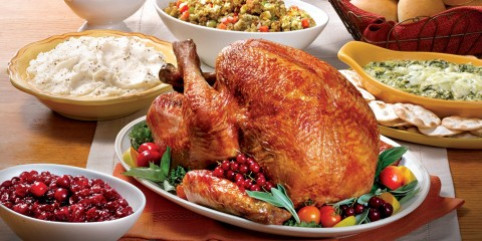 The average Thanksgiving dinner will cost Americans less this year, following a plunge in turkey prices, but consumers are still aiming to spend less on presents at Christmas.
According to a survey from the American Farm Bureau Federation (AFBF), the average cost of this year's Thanksgiving feast has fallen by 0.9% to $49.04, from $49.48 in 2012.
"Most Americans will pay about the same as last year at the grocery store for a turkey and all the trimmings," said John Anderson, AFBF's deputy chief economist.
"Slightly higher turkey production for much of the year coupled with an increase in birds in cold storage may be responsible for the moderate price decrease our shoppers reported."
The traditional Thanksgiving feast consists of turkey, stuffing, sweet potatoes, rolls with butter, cranberry sauce and pumpkin pie with whipped cream.
According to AFBF, the plunge in turkey prices was the main reason for the drop in costs for the average Thanksgiving meal, while a fall in rolls and green pea prices also dragged down overall costs.
However, a larger drop was mitigated by a rise in sweet potatoes, pumpkin-pie mix and milk.
Although Thanksgiving dinners now costs less year-on-year, overall food prices have actually remained high.
According to the US Bureau of Labor Statistics, the average cost of dinner has remained about $49 for the past three years, after jumping from $43 in 2010.
Meanwhile, the National Retail Federation said nearly 80% of US shoppers are planning to spend 2% less overall.
US consumer sentiment fell to a two-month low in November as job prospects and financial outlooks weighed heavily on lower-income households.
"We have a lot of consumers that feel stretched thin so having stable food prices is a positive," said Anderson.
"It's an item of family budget that hasn't put pressure on people over the last 12 months."