With a star-studded ensemble cast, featuring the likes of Richard E Grant, Jeremy Irons, Bill Nighy and Gemma Arterton, Lone Scherfig adapts Lissa Evans' 2010 novel Their Finest Hour and a Half for the big screen. Set against the back-drop of World War II, it details how a married woman strikes up a romantic relationship with a screenwriter when the pair are tasked with making a film about the evacuation of Dunkirk that will inspire the masses.
Our verdict
Having previously directed book-to-movie adaptations One Day and An Education, Danish filmmaker Lone Scherfig is well-versed in juggling different tones and story lines in just one outing. You see, novels, much more often than films, take readers on more of emotional roller coaster simply because they have the time and the dialogue to do so, as you get to know the characters so closely.
Now, Their Finest may not be a particularly thrilling roller coaster, but its continual shifts between being brilliantly funny, progressive and poignant and downright tragic mean that you are constantly kept on your toes. Fortunately, it also keeps it from being a predictable World War II drama as Scherfig presents each type of scene with the serious distinction we've come to expect from her period dramas.
The film centres around Catrin Cole (Gemma Arterton), a young Welsh woman living with her husband Ellis (Jack Huston) in London. Her other half makes his money – or more accurately, doesn't –as an artist and in an attempt to keep a roof over their heads, advertising copywriter Catrin goes for a secretarial job at the Ministry of Information's film division in the hopes that the pay will be worthwhile.
However, she soon realises that the post doesn't require her to fetch cups of teas or file letters and such because instead, it's actually a female screenwriter that the department is after and they believe Catrin is the perfect person to write the "slop" for their next movie. (An ever-so-affectionate term for women's dialogue within a script, in case you were wondering).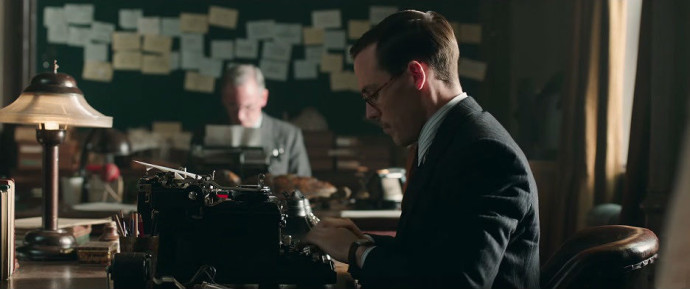 Teamed with Tom Buckley (Sam Claflin), a grouchy fellow scribe who may begrudge the ministry spies' restrictions on his work, but fortunately isn't the least bit perturbed at sharing his limelight with a woman, the pair set out to make the "authentic and optimistic" picture their superiors demand they do.
In all of the moments that concentrate solely on Catrin and Buckley's making of the fictional film – of which it is thankfully predominantly made up of – Their Finest is an indisputable triumph. Not only does it shine a light on the hoops creatives had to jump through in order to please the government bodies that were in charge of them, but it also raises poignant discussions about women in the workplace and highlights the worth of female storytellers.
The sweetener with that is that Their Finest itself stems from a trio of women; Scherfig, screenwriter Gaby Chiappe and author of the original novel Lissa Evans. With both the film's subject matter and their obvious skill here, they prove that female filmmakers have both voice and vision – and deliver too. (Heck, even the film's music was composed by a woman).
Unafraid to be a love letter to all things film, it's a real treat to be submersed in the world of British film-making, as well as being shown – completely unabashedly – what a powerful medium it was during the war too. Back then, many people turned to cinema as a means of escaping the literal horrors of the outside world and it's both heart-warming and eye-opening to see. Parallel to that, it also showcases that classic, 'keep calm and carry on' notion that is so synonymous with Britain during that time period adding a certain quaintness.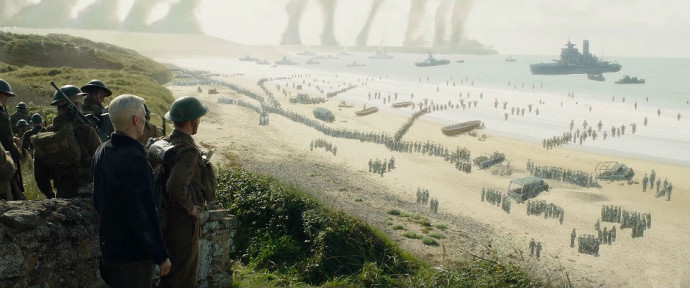 It all works so well in fact, that it's a real shame that Their Finest dedicates any time to the wishy-washy romance that is almost non-existent until the final act. As they spend more and more time together, Catrin – somewhat inexplicably – falls for Buckley and it's hardly a spoiler to learn that he feels the same way. Don't even expect much drama when it comes to the fact that Catrin is married either... such facts are brushed over quite unrealistically in favour of the not-so-star-crossed lovers' relationship.
Thankfully, Their Finest is full to the brim with scene-stealing characters, who frequently steal focus away from the tepid romance at the latter part of the film's centre. Bill Nighy is brilliant as veteran actor Ambrose Hilliard, who's struggling to come to terms with the fact that he's a bit too old to be playing the lead hero roles these days, while Rachael Stirling stars as an impeccably-dressed government official who isn't afraid to dish out some feminist truths. While her role is small, Helen McCrory also shines as the Polish sister of Hilliard's former agent, who not only puts her newly-inherited English bull terrier in place but her client too.
Minor flaws aside, Their Finest is one of those gems that you're sure to enjoy watching – particularly as we approach summer blockbuster season. Look, not everyone loves high-octane action and muscled movie stars... Chiappe manages to nail the nuanced balance between idealistic nostalgic and the harsh truths of a time when many people died.
Long story short, you know a movie about writing and making a movie has done well when you actually find yourself wanting to watch the film they're creating. Their Finest spin-off anyone?