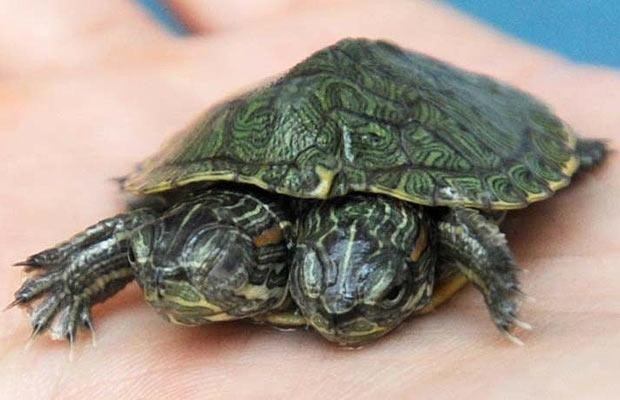 A two-headed Texan turtle has hatched at San Antonio Zoo.
The female cooter arrived on June 18 and has been named Thelma and Louise, after the female duo in the 1991 Oscar-winning road film, by zoo officials.
It will go on display Thursday at the zoo's Friedrich Aquarium.
Zoo spokeswoman Debbie Rios-Vanskike said that the reptile appears healthy and is able to swim and walk.
Two-Headed Turtles are rare, but when two-headed reptiles occasionally surface, it is the result of conjoined-twin births.
Experts at the San Antonio Zoo do not anticipate any health issues for Thelma and Louise.
The Texas-based facility was previously home to a two-headed Texas rat snake named Janus from 1978 until the creature's death in 1995.
In April a two-headed pig with two snouts, two ears and a shared eye was born in Jiujiang, in east China's Jiangxi province.
A local vet said the creature was suffering from a rare deformity and would find it difficult to survive into adulthood, but its owners agreed not to slaughter it.
READ:
The Return of Lonesome George: Extinct Galapagos Tortoises to be Brought Back to Life