The creator of the cartoon Pepe the Frog has killed off the character after appearing to concede it cannot be reclaimed from the alt-right and white supremacists.
US artist Matt Furie created Pepe, a peaceful dope-smoking amphibian, as part of his 'Boy's Club' comics on Myspace in 2005. Pepe was incongruously appropriated by the far right in the run-up to last year's US election.
Hillary Clinton and the Anti-Defamation League both identified Pepe as hate symbol after he was incorporated into a flood of racist, anti-Semitic and Nazi-glorifying memes.
Now Furie appears to have reluctantly laid his creation to rest after a 'Save Pepe' campaign failed to detoxify the frog's public image.
A new comic strip shows Pepe appearing to lie dead in an open casket while his 'Boy's Club' friends pay their last respects.
"Having your creation appropriated without consent is never something an artist wants to suffer," a statement from Fantagraphics, the independent publisher of the latest Pepe story, read.
"But having it done in the service of such repellent hatred – and thereby dragging your name into the conversation, as well – makes it considerably more troubling," it added.
Pepe became an internet meme in 2008 when people began using frames of the cartoon, particularly one in which he is saying "feels good, man", on forums and social media.
The meme then split into a number of variants, expressing a range emotions and attitudes, appealing to a diverse group of people.
Then, in 2015, the burgeoning alt-right movement co-opted Pepe into messages spouting a white nationalist agenda. By October, Donald Trump had retweeted a cartoon hybrid of himself and Pepe with the caption: You Can't Stump the Trump.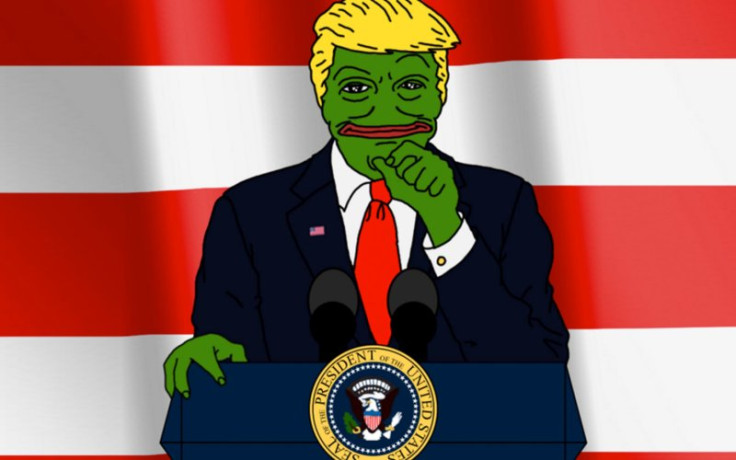 More disturbingly, images of Pepe wearing Nazi regalia and performing acts of sexual and racist violence began to flourish.
As recently as October 2016, Furie had been optimistic that Pepe's dark mutation in the hands of the far right would not be everlasting.
In an article for Time magazine, he wrote: "A chill frog-dude named Pepe who I created a decade ago became a hate symbol... but there is still hope."
Peace-loving Pepe fans attempted to counter his latter-day dark mutation by flooding the internet with positive, loving Pepe memes.
However, the 2 May 'Boy's Club' strip set at Pepe's funeral appears to suggest that Furie, at least, is resigned to defeat.