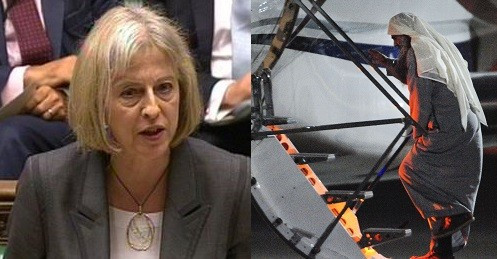 The home secretary has said that Britain should consider withdrawing from the European Convention on Human Rights to prevent another lengthy deportation case like Abu Qatada's.
Speaking to the Commons after the radical cleric was finally deported to Jordan to face terrorism charges, Theresa May said the option of withdrawing from the ECHR should "remain on the table".
Qatada, once described as Osama Bin Laden's right-hand man in Europe, was deported to Jordan after an eight-year battle and an estimated cost of £1.7m for the taxpayer.
May claimed that if not for the convention, Qatada would have been deported "long ago".
"The problems caused by the Human Rights Act and the European Court in Strasbourg remain and we should remember that Qatada would have been deported long ago had the European Court not moved the goalposts by establishing new, unprecedented legal grounds on which it blocked his deportation," she said.
"I have made clear my view that in the end the Human Rights Act must be scrapped.
"We must also consider our relationship with the European Court very carefully. I believe that all options - including withdrawing from the convention altogether - should remain on the table."
She added: "But those are issues that will have to remain until the general election. Today we should take quiet satisfaction that a dangerous man has been deported to face justice in his home country.
"Last year, I said the right place for a terrorist was a prison cell, the right place for a foreign terrorist Was a foreign prison cell far away from Britain.
Gary McKinnon
"Today, Abu Qatada is indeed in a foreign prison cell".
The suggestion was condemned by the shadow home secretary Yvette Cooper, who pointed out to May that she used the ECHR to block the extradition of British hacker Gary McKinnon to the US.
Qatada has been questioned by police in Amman and denied conspiring to carry out al-Qaida-style attacks on Jordan.
May also said that ministers were looking to change the law to strip benefits from terror suspects.
Prime Minister David Cameron said he was delighted about Qatada's deportation. The radical preacher's presence in Britain made his "blood boil", he said.
When asked about the UK's commitment to the ECHR, Cameron said: "It is important that Britain meets proper international obligations but when it comes to these cases I don't rule anything out in terms of getting this better for the future".