Theresa May has outlined her plans for the three million EU nationals living in the UK, announcing that European citizens living in UK for five years could get "settled EU status".
The prime minister made a "fair and serious offer" to EU leaders in Brussels on Thursday (22 June), proposing that all those who arrived in the UK before Article 50 was triggered in March be allowed to stay permanently.
EU nationals will be treated as British citizens, with the new immigration status granting them access to health, education and other benefits.
May also said it was important that the rights were reciprocated to the estimated 900,000 UK citizens living abroad.
Striking a softer tone, May said that she did not want to "break up families" in reference to foreign spouses and children of EU nationals who live abroad being allowed to come to the UK.
The plans were outlined at a European Council summit in Brussels. The plans stated that citizens arriving after an unspecified cut-off date but before the actual date that the UK leaves the EU in March 2019 would have a "grace period" where they must regularise their immigration status.
May affirmed that anyone arriving before the cut-off date will entitled to stay permanently, if they remain in Great Britain for at least five years under settled status.
But the EU have asked for the cut-off date to be in March 2019, which will effectively mean freedom of movement will continue until 2021.
She said: "The UK's position represents a fair and serious offer, one aimed at giving as much certainty as possible to citizens who have settled in the UK, building careers and lives and contributing so much to our society."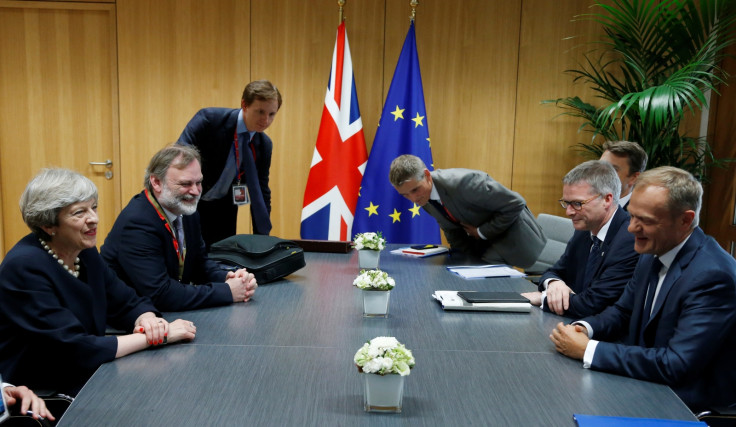 Reuters reported that an 85-page residency form will be replaced by a more streamlined system, "using digital tools to register people in a light-touch way".
May also rejected demands that the European Court of Justice should continue to oversee the rights of EU migrants after Brexit.
"The commitment that we make to EU citizens will be enshrined in EU law and enforced through our highly-respected courts," May said, according to the Daily Telegraph.
May's offer will be detailed in full in a position paper published on Monday (26 June).
Earlier in the day, European Council President Donald Tusk said he regretted the UK's pending departure.
"Some of my British friends have even asked me whether Brexit could be reversed and whether I could imagine an outcome where the UK stays part of the EU," he said. "I told them that, in fact, the European Union was built on dreams that seemed impossible to achieve. So, who knows?"