Theresa May dodged questions over fears that a post-Brexit trade deal between the EU and the UK could take 10 years to finalise as the Conservative premier arrived in Brussels on Thursday (15 December).
Journalists attempted to grill the British prime minister after the BBC claimed the UK's ambassador to the EU, Sir Ivan Rogers, said a trade arrangement might not be done until the mid-2020s.
But May immediately walked off to join other European leaders at the EU Council after delivering a brief statement ahead of the summit.
She said she wanted Brexit to be a "smooth and orderly" process and welcomed news that the other 27 leaders plan to discuss their negotiating strategy at an informal dinner on Thursday night.
"As we are going to invoke Article 50, trigger the negotiations by the end of March next year, it's right that those other leaders prepare for those negotiations as we have been preparing. We will be leaving the EU [and] we want that to be a smooth and orderly process as possible," May said.
President of Lithuanian Dalia Grybauskaitė, who arrived at the summit just after May and did respond to questions about a post-Brexit UK-EU trade deal, said: "10 years? I hope it's going to be a lot less," she told reporters.
Brexit Secretary David Davis told the Exiting the EU Committee on Wednesday that the government will not publish a Brexit "plan" before Februrary 2017. This comes after MPs backed a "clarity" motion from Labour. The government had ruled out giving a "running commentary" on its negotiations with the EU.
'Sustainable' migration crisis plan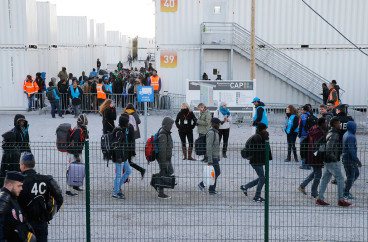 The prime minister is also expected to push for the EU to adopt a more "sustainable" plan to combat the continent's migration crisis and stress the "importance of greater involvement" of Egypt in helping tackle the issue.
"I've always said from the outset on migration that Europe needs to do more to tackle the root causes. That means disrupting the smuggling networks, it means deterring more people from taking the journey in the first place and returning those who have no right to be here," she said.
Syrian war
May urged her European counterparts to "robustly condemn" alleged war crimes and atrocities in Syria. Evacuation preparations for civilians in the besieged city of Aleppo are now reportedly underway after a new ceasefire deal was brokered between President Bashar al-Assad and rebel forces.
"Assad and his backers in Russia and Iran bear responsibility for the tragedy in Aleppo," May said. "What we must be doing is ensuring that those who are responsible for these atrocities are held to account, we must also do all that we can to make sure a ceasefire is secured so the United Nations can help to bring to safety the innocent people of Aleppo."