Theresa May will launch a withering attack on the Labour Party's "sanctimonious pretence of moral superiority" and insist that the Conservatives are the party of ordinary working-class people.
In the final speech of the Tory conference on Wednesday (5 October), the prime minister will say that the establishment who are "bewildered" by more than 17 million people voting for Brexit should stop sneering at the patriotism of ordinary Britons.
She will say: "I want to set our party and our country on the path towards the new centre ground of British politics - built on the values of fairness and opportunity - where everyone plays by the same rules and where every single person, regardless of their background or that of their parents, is given the chance to be all they want to be."
In what is seen as a bid to win over disaffected Labour voters, she will criticise the opposition as being "not just divided, but divisive" and a party who are "determined to pit one against another to pursue vendettas and settle scores".
"So let's have no more of Labour's absurd belief that they have a monopoly on compassion. Let's put an end to their sanctimonious pretence of moral superiority.
"Let's make clear that they have given up the right to call themselves the party of the NHS, the party of the workers, the party of public servants."
She will also say that she and her ministers are determined to "employ the power of government for the good of the people".
"That's what government's about: action. It's about doing something, not being someone. About identifying injustices, finding solutions, driving change. Taking, not shirking, the big decisions. Having the courage to see things through."
At the conference on Monday (4 October), the home secretary Amber Rudd said businesses will have to reveal how many foreign staff they employ to boost numbers of British workers.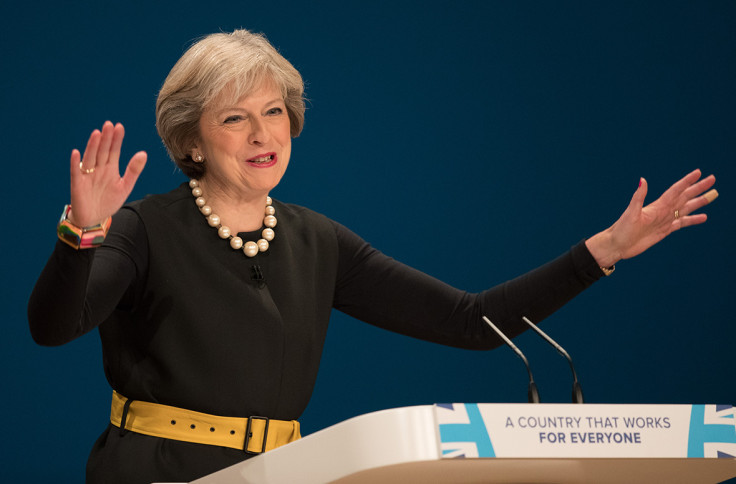 Meanwhile, trade secretary Liam Fox said Britain will be able to announce a number of free trade deals with other countries on the day it finally leaves the EU.
He was criticised however for saying at an event on the sidelines of the conference that UK government will not offer any guarantees on the immigration status of EU citizens, in order not to forfeit "one of the main cards" in its Brexit negotiations.