Theresa May: Prime Minister-in-waiting 'honoured and humbled' to be new Conservative leader
May pledged to make success of Brexit in first speech as Tory leader.
Theresa May described herself as "honoured and humbled" to be chosen as leader of the Conservative party and Britain's next prime minister.
Speaking outside the houses of parliament, May pledged to unite the country and make a success of Brexit.
David Cameron, who has been PM since 2010, is to tender his resignation to the Queen on Wednesday.
May said the country faced "difficult and uncertain economic times".
"Brexit means Brexit, and we are going to make a success of it," the former Home Secretary said.
She said she wanted "a country that works not just for the privileged few but for everyone of us", adding: "We're going to give people more control over their lives."
May's accession to leadership of the party comes after rival Andrea Leadsom said she would pull out of the race.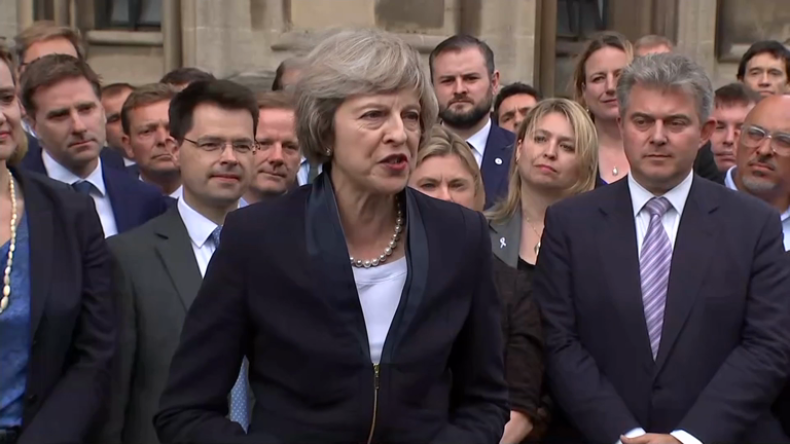 In a speech at Downing Street earlier, Cameron said that Leadsom had made the right decision not to contest the leadership and that a "prolonged period of transition" was not necessary.
"It is clear that Theresa May has the overwhelming support of the Conservative parliamentary party. I'm also delighted that Theresa May will be the next prime minister," he said.
"She is strong, she is competent, she is more than able to provide the leadership that the country needs in the years ahead. She will have my full support."
Cameron will chair his final cabinet meeting on Tuesday, and on Wednesday will attend Prime Minister's questions at the House of Commons before stepping aside.
He announced his resignation on 24 June, after unsuccessfully campaigning for Britain to remain part of the European Union. Cameron will tender his resignation to the Queen on Wednesday, leaving May to appoint her own ministerial team.
Meanwhile, the senior Labour MP Jon Trickett along with the Liberal Democrats and Green Party have called for a snap general election. Trickett who is Labour's General Election co-ordinator said he was putting the party on a general election footing as it was "crucial" to have a "democratically elected prime minister".