Theresa May left an audience of top political journalists cringing after relaying how she walked in on a couple having sex in a caravan.
The British Prime Minister also targeted a number of her Cabinet ministers in an uncharacteristically lewd speech at the black-tie Westminster Correspondents Dinner, in central London last night.
May, in uncharacteristic feisty mode, also launched an attack on the Labour Party leader Jeremy Corbyn, for taking money from Iranian state television and mocked her fellow Cabinet ministers.
Going off on a self-deprecating tangent about her disastrous election last year where she joked about calling the snap election poll to get out of the event, she recalled: "One canvassing trip in particular sticks in the memory.
"I was at the open door of a caravan and there was clearly some activity within, so I duly knocked.
"No answer, but the activity persisted. It looked like there was someone lying down. I knocked again, and put my head around the door."
Building up tension, she continued: "There was someone lying down, in fact, two people were lying down. And it wasn't a good time to ask them if they were going to vote Conservative.
"They were giving a whole new meaning to the phrase 'deep and special partnership'. I'm used to hearing moans on the doorstep, but this was something else."
The prime minister's bawdy reminiscence raised eye-brows among the diners. Since arriving at Number 10 she has established a reputation of being strait-laced and humourless. Due to her robotic style on the campaign trail she was dubbed the Maybot by the Guardian sketch writer John Crace - a monicker that has stuck.
Indeed, she was ruthlessly mocked for being a prim goodie-goodie when she was asked to think of the naughtiest thing she ever did as a child and she could only confess to "running through fields of wheat" with a friend.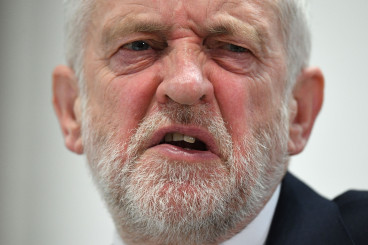 But at the correspondents dinner a more mischievous May on display even willing to take an acerbic swipe at her top team, stating: "Don't worry about Boris. Don't worry about your Chancellor. Worry about ambitious, female, Home Secretaries."
She then looked over at Amber Rudd and said, "lovely to see you tonight," which prompted some awkward giggles.
As well as describing the Brexit Secretary as David "Mad Max" Davis, she mocked culture minister Matt Hancock for launching his own app.
The PM said other ministers are following his lead, and while the Boris Johnson one is "great for extending your vocabulary, but it does contain some adult content".
She said the Philip Hammond app is "like a drier, less frivolous version of LinkedIn", but also joked she was working on one of her own - which "provide GPS directions to your nearest wheat field".
The PM inevitably took aim at Corbyn in the speech, stating: "And I know we're all very sad that Jeremy Corbyn can't be with us tonight.
"We know Jeremy has some concerns about press ownership in Britain. Of course, that didn't stop him appearing on the Iranian state-owned 'Press TV' for years."
The dig took a more serious turn when she claimed Corbyn was "happy to take a fee from a broadcaster under the command of the Ayatollah" before attacking him for his threat to the UK press last week.