Theresa May stressed that the UK would work with Estonia during its six-month-long EU presidency as she met with the Baltic nation's prime minister in Downing Street on Tuesday 18 July. The Conservative premier also stressed to Jüri Ratast that the UK plans to leave the EU but not Europe, Number 10 said.
"The PM welcomed Estonia taking over the EU Presidency and confirmed that the UK would work to support their agenda, including on digital initiatives, cyber security, tackling online extremism and addressing the migration crisis in the Mediterranean," a Downing Street spokesperson said.
"The PM provided an update on the constructive beginning to Brexit negotiations and confirmed that we look forward to reaching an agreement on citizens' rights at the earliest possible stage."
May also noted that both Estonia and the UK meet the North Atlantic Treaty Organisation's (Nato) annual 2% of GDP defence spending pledge, something US President Donald Trump has been urging more nations in the military alliance to do.
"Both leaders agreed that our defence relationship is particularly strong, with 800 British troops deployed in Estonia as part of Nato's Enhanced Forward Presence and British fighter jets policing airspace in the Baltics region," a Number 10 spokesperson said.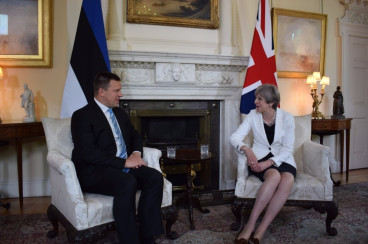 "Finally, turning to Russia, they agreed on the importance of maintaining the Ukraine sanctions until the Minsk Accord is implemented in full."
The summit comes just weeks after Estonia's presidency of the EU Council began on 1 July. Ratast invited May to the Tallinn Digital Summit in September.
The get-together promises to feature "high-level discussions on further plans for digital innovation with the aim of keeping Europe ahead of the technological curve while becoming a digital leader, globally, in the years to come".
Ratas, meanwhile, plans to meet with representatives of the Estonian community in London on Tuesday after warning May that Brexit will "affect the everyday lives of many European citizens and companies".
"Estonia's main objective, as the holder of the Presidency, is to maintain the unity of the 27 Member States and to focus on the everyday running of the EU," he said.
Ratas has met nearly all his European counterparts to present Estonia's plans for the Presidency, the Estonian government said. The meeting with the May was his penultimate. The last will be a working visit to Croatia at the end of July.