Prime Minister Theresa May has pledged to protect workers' pensions from the actions of "unscrupulous company bosses" if she is re-elected as prime minister.
May said she would give more powers to regulators to block takeovers which could potentially place the solvency of pension schemes at risk.
She also proposed increasing punishments for employers found mismanaging pension schemes.
The plan comes after the high-profile collapse of department store chain BHS last year left a £571m ($740m) black hole in its two pension schemes.
Sir Philip Green, who sold BHS to Dominic Chappell for £1 in 2015, faced calls to be stripped of his knighthood over his alleged role in the collapse of the retailer.
He agreed to pay £363m into the BHS pension funds in February to settle the dispute with the Pensions Regulator.
"Safeguarding pensions to ensure dignity in retirement is about security for families, and it's another example of the choice in this election," May was quoted as saying by Sky News.
A government statement added: "In recent years, the employees of several large, household-name companies have had their pensions put at risk by the irresponsible behaviour of bosses.
"Meanwhile, responsible companies managing their pension schemes in the right way have found their competitive position suffer as a result. This is bad for ordinary working families and bad for the market."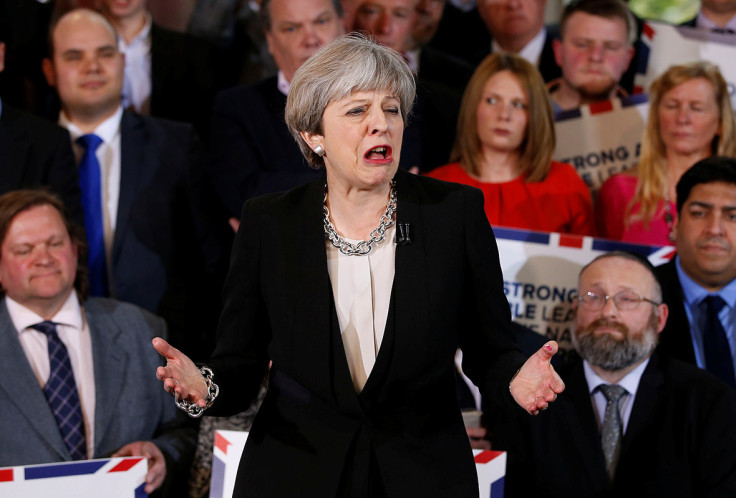 The Tories will consider making it a criminal offence for bosses to deliberately underfund pension schemes.
Employers found mismanaging schemes could be hit with punitive fines or be suspended for a period of time.
Frank Field, the MP leading the probe into the BHS pension scheme, welcomed May's announcement.
"It won't bring back pensions savings lost but it implements the committee's proposals to stop rip-offs in the future," he was reported as saying.
"It means the era of Sir Philip Green is coming to a close."