These photoshopped images of former US presidents insulting Donald Trump have been creating quite a stir on social media.
The pictures show the former leaders making some rather rude gestures to the current occupant of the Oval Office.
The first image shows a painting of George Washington, the revolutionary general and first president of the United States, giving the middle finger to Trump as he delivers a speech.
Another shows an exasperated Andrew Jackson clearly face-palming while Trump is seen at his desk conducting business on the phone.
The tweet was posted by Enzo A Moray (@JaimsVanDerBeek) and has been retweeted over 8.5k times since its publication on Friday (October 20).
The user also added the caption "whoever made these is a genius".
Trump is of course a fan of Twitter and uses it several times everyday to communicate with his 41 million followers.
Let's hope he somehow doesn't manage to catch a glimpse of Enzo's trending tweet.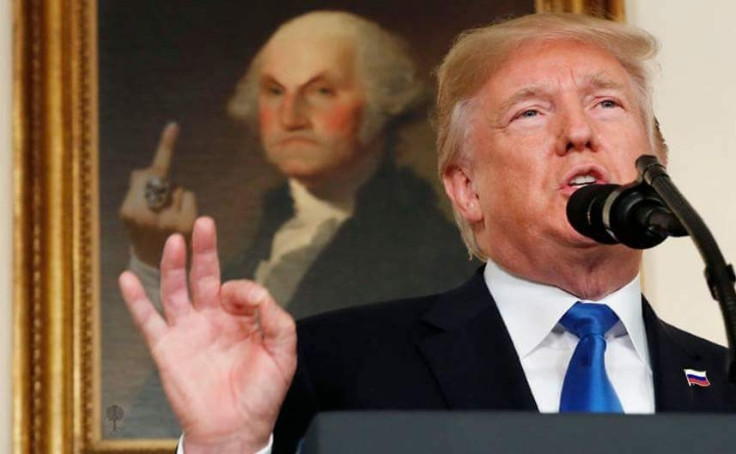 Most responding to the tweet have applauded the original artist's imaginative image doctoring - so far there are already 130 replies.
One user wrote: "So, the White House portraits are like the ones from Harry Potter with these pictures? I like the idea."
While user Karl Wag said: "He will probably claim that the painting is a fake."
However, not everyone has been impressed. Some Trump admirers have said they think the images go a step too far and undermine the office of president.
This isn't the first time Donald Trump has been involved in a controversy about his likeness. On Friday (October 20) his son Donald Trump Jr posted on Instagram an altered image of a muscular Donald Trump posing as Superman.
The photoshopped cover of Time magazine also shows the American flag behind Trump and includes the caption: "President Trump. Making America Great Again."