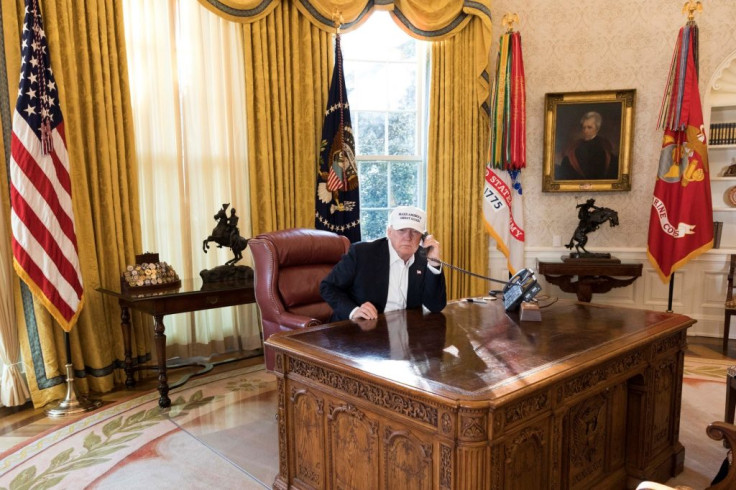 This photo showing US President Donald Trump at his desk in the Oval Office was released by the White House on Saturday (20 January) to prove he was busy at his desk and continuing to work during the government shutdown.
When the photo surfaced on Twitter, critics were quick to point out that there was absolutely no work-related clutter or even any family photos on Trump's main desk, or the side table behind him. Releasing the photo, the White House said it showed Trump receiving latest updates from Capitol Hill on talks to end the government shutdown.
Dr Honor Sachs, a historian at Western Carolina University, began an epic takedown, tweeting: "Hey, all you People Who Know Desks: Does this look like the desk of somebody who works?"
Twelve hours later, Sachs continued the thread with a series of photos showing past presidents at work at their various desks - proving that it is definitely normal for the leader of the free world to have papers, pens and personal clutter filling the space. Barack Obama, George Bush and Bill Clinton are among those pictured, featuring 20 presidents going back over 100 years. It is worth clicking through to see each and every one of the photos in a thread which has been liked more than 11,000 times.
Another historian, Michael D. Hattem, replied saying: "You expected there to be reading material? (That's the desk of someone who's [sic] staff knows they don't like to do actual work, besides watching TV and golfing, that is.)"
Twitter user Seth Cotlar described it as a failure for Trump's PR team. "Is this a candid or a photo op?" he asked. "If the latter, then at least put some props on the damn desk. You had one job people." Actor and writer Daniel Danger summed up the negative portrayal of Trump in image: "It looks like the desk of a man who doesn't know how to read."
Angela Brownawell also shared photos of Trump pre-White House at his previous business desks with stacks of paper piled everywhere. She said: "In case anyone says he's very tidy and likes to keep a clean desk ..."