It's hard to imagine any presidency beginning with such an air of fin de siecle swirling around it. Everything from the preposterous, thumbs-aloft in gold palaces displaying the decadence of Donald Trump's lifestyle, to the appointment of his unqualified son-in-law to a position of significance, right through to the who-gives-a-hoot approach to public utterances, are all the signs of a regime which doesn't care what people think, which is beyond the necessities of popularity. It's the outlook of a government which has done all it thinks it can.
Except, of course, Trump has yet to even reach the inauguration ceremony.
It's been a week which began with lurid accusations of watersports, espionage and blackmail and ended with the Martin Luther King national holiday ushered in by Trump attacking the civil rights leader John Lewis. For most politicians, that would count as "lively". For Trump, it's almost mundane.
The details of Russian involvement in Trump's election victory and any hold the Putin regime has over him via financial entanglement or sexual entrapment are unlikely ever to be fully disclosed. You could argue, though perhaps not convincingly, that Trump is not the author of his own misfortune on this one.
He was very much the author of his own tweeted attacks on the civil rights icon and congressman John Lewis. It's difficult to imagine any of his advisors suggesting that Martin Luther King Day should be heralded by insulting a man beaten by police in the Selma riots of 1965. Not exactly the sort of politicking to bring together a divided nation.
Trump has, of course, been a divisive politician ever since he entered the presidential race. In a two-horse race, the divide matters less, so long as there's enough on one side to carry the vote (and there was, in electoral college terms at least). But, in victory, if he wants to "govern for all Americans", then it isn't showing. And it's hurting him, even now.
The social media analysis company Impact Social has this week looked at 140,000 social media posts and comments in open news forums over the past seven eventful days, in the state of Florida, to compare them to the attitudes held in that key electoral state just before the election. In that week, the social media commentary was supportive of Trump – 54% of posts were positive about him, in a clear prediction of what was about to happen.
This week, in stark contrast, that number is down to 28%. A full 50% of posts were negative.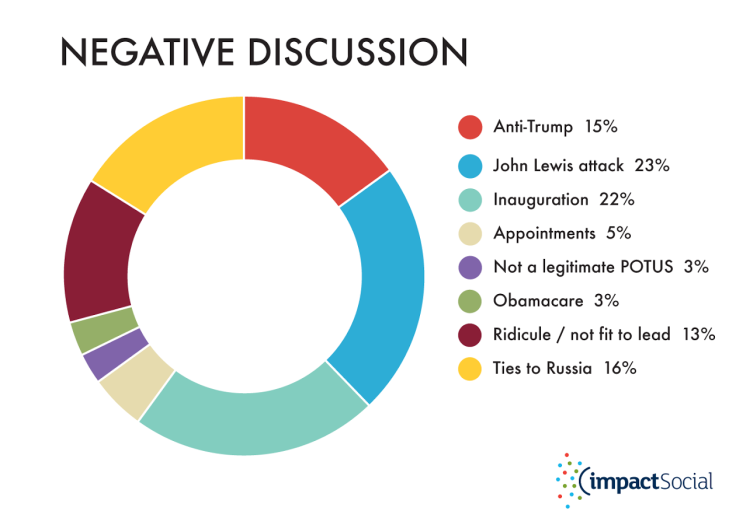 That's a big number for a man who ought still to be in the honeymoon period of a shiny new presidency – and this measurement took place even before the Summer Zervos defamation case, which we can assume will hardly burnish his reputation.
Of those negative posts, the (needless) John Lewis attacks resonated the most with voters (attracting 23% of posts) – but the ties to Russia drew another 16% of the commentary and, not unconnected, a further 13% attacking Trump as "not fit to lead". A further 15% indulged in general anti-Trump commentary and 22% are dreading this week's inauguration.
There's little to cheer Trump's camp in the positive data from the numbers.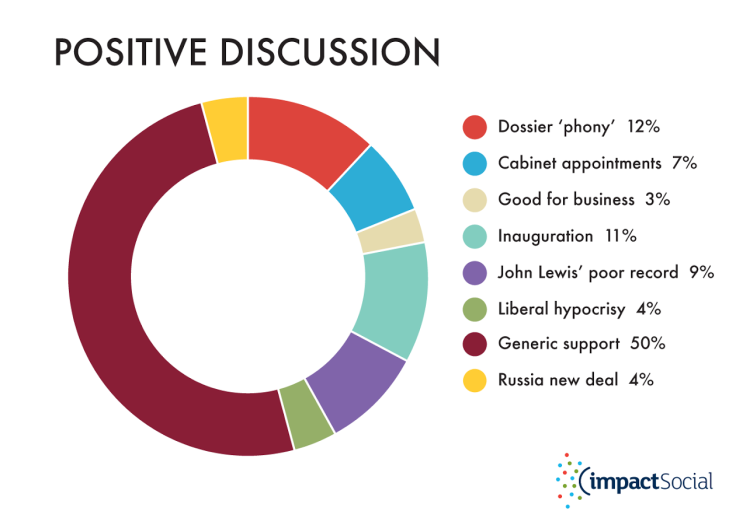 We've seen before that his followers rally around a kind of generic supporting noise (50% of his positive postings, and 11% looking forward to the inauguration), but they find it difficult to find something concrete to actually be supportive about. Even in that Trumpian positivity, the drive is to attack opponents rather than rally around policy – the Russian dossier is "phony" (12%) and John Lewis' "poor record" (9%) gaining most traction. The most constructive topic was the cabinet appointments (7%).
Outside of an election there would seem little to gain for Trump to continue to divide his nation but, driven by events and his own mouth, he simply can't help himself. On the basis of these numbers, and they seem to be getting worse over time, America seems more fractured than ever – and that surely can't end well.
By attacking Lewis, Trump brought back memories of a violent time in America's history. The danger is that he's leading them back to similar times. It's a long way to unity from here.
---
Jimmy Leach is a digital consultant, working on platforms and communications for governments, corporations and start-ups.
---