Bayern Munich have confirmed the transfer of Barcelona midfielder Thiago Alcantara, pending a medical sometime this week. The Bundesliga and Champions League winners will pay the Spanish champions €25m and the 22-year-old will sign a four-year contract at the Allianz Arena club.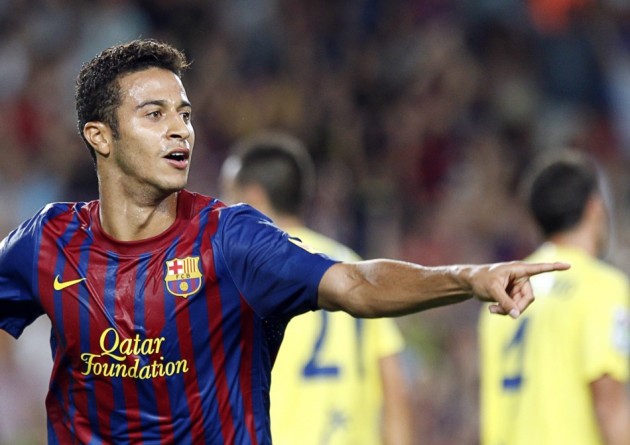 A statement from the Bavarians' website reads:
"FC Bayern Munich and FC Barcelona have today agreed terms for the transfer of 22-year-old Thiago Alcantara. The clubs have agreed a transfer fee totalling €25 million. FC Bayern will directly pay €20 million. The remainder will be financed by the proceeds of a friendly match agreed between the clubs. A further proportion of the remaining sum will be indirectly covered by Thiago Alcantara himself, as the player will forego part of his remuneration."
"Thiago Alcantara was the biggest wish of our new coach Pep Guardiola," Bayern chairman Karl-Heinz Rummenigge said after the signing, "We're delighted we've successfully negotiated this major transfer. He's a fantastic player with huge potential, and he will make FC Bayern stronger."
The young midfielder, who learnt his trade under new Bayern and former Barcelona boss Guardiola, was heavily linked to Premier League champions Manchester United before confirming his move to Germany.
The Old Trafford club, under new management themselves with former Everton boss David Moyes replacing the retiring Sir Alex Ferguson, were understood to be keen on Thiago to strengthen their central midfield options.
United were believed to be in pole position to sign Thiago up until recently, when Guardiola admitted his protégé was a key request to the German champions' administration. The former Barcelona and Spain midfielder said: "I want Thiago Alcantara. I have asked Bayern to get him but I don't know what will happen."
Thiago becomes the second major signing of the summer for Bayern Munich, who have already spent a German record €37m on German international Mario Götze, from fierce rivals Borussia Dortmund.
Guardiola begins his defence of the club's 2012/13 league title on 9 August, when Borussia Monchengladbach visit Munich.