Henry Return to Arsenal on Brink of Collapse
Thierry Henry's return to Arsenal has hit a stumbling block with New York Red Bulls unwilling to release the Frenchman
Thierry Henry's loan return to Arsenal is in major doubt after New York Red Bulls admitted they were reluctant to release the Frenchman in the offseason.
Henry scored three goals in seven games for The Gunners last year upon his return to the club and manager Arsene Wenger has talked up another move for the legendry forward, with both Marouane Chamakh and Gervinho set for African Nations Cup duty in the New Year.
But Red Bulls sporting director Andy Roxburgh says the club would be against such a move, preferring to see their players take an extended rest ahead of the new season.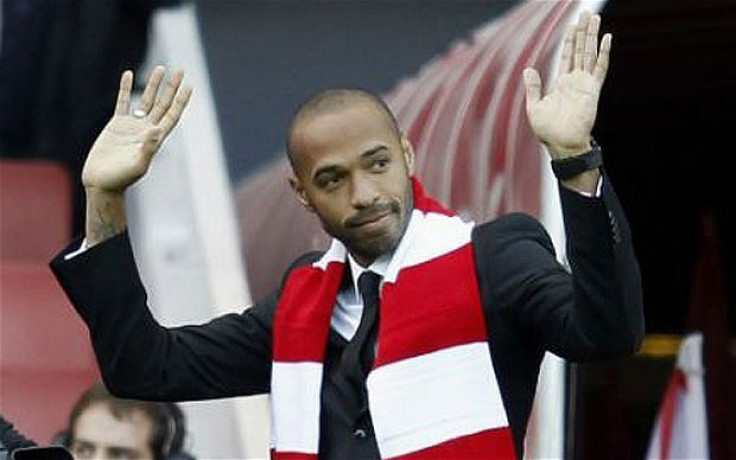 "In general terms, I wouldn't say it would be something we would favour," Roxburgh said.
"I think the length of the season we have here, when they get the break over the Christmas, New Year's period, they need to regenerate themselves. I'd say in general we wouldn't be too positive about it."
"Right now, no-one has requested for anyone to go on loan," he added. "It depends on the individual, it depends on the circumstances. You cannot say never on that one. But it's unlikely, at the moment that would happen."
Arsenal will have Theo Walcott, Olivier Giroud and Lukas Podolski to reserve in the absence of Chamakh and Gervinho, both of whom have only played bit-part roles this season.
After having a statue of himself unveiled as part of the club's 125<sup>th year anniversary, in recognition of his contribution during his eight-year Arsenal career during which he became the club's highest ever goalscorer, Henry went on make a series of cameo appearances.
He netted winning goals against Leeds United in the FA Cup and Sunderland in the Premier League, as well as a goal in a handsome win over Blackburn Rovers in the absence of both Chamakh and Gervinho.
The pair are set to be unavailable again as they take part in the African Nations Cup, and Wenger has hinted he could make another move for Henry.
"Will I sign him again in January? I don't rule it out," the Arsenal manager said. "I don't know if he is interested. He is sharp."
"We will lose Gervinho again as they are playing in the African Cup of Nations two years in a row, so we will be confronted with a shortage particularly if [striker] Marouane Chamakh should go. I cannot stand in his way, then we will be short."
"You know what Thierry gives you; he gives you hope, especially when he comes on, that is the most important thing.
"Thierry is a communicator, an extrovert, very intelligent. He can only give good advice to players because he was in their position when he arrived here."
"I think now this team has an exceptionally good character. There are not many flashy boys. What is the most important thing is not whether you are an extrovert, but what it means to you to do well, your job, your will to win."
© Copyright IBTimes 2023. All rights reserved.