This Mormon Can Create You a Fake Identity, but it's all Legal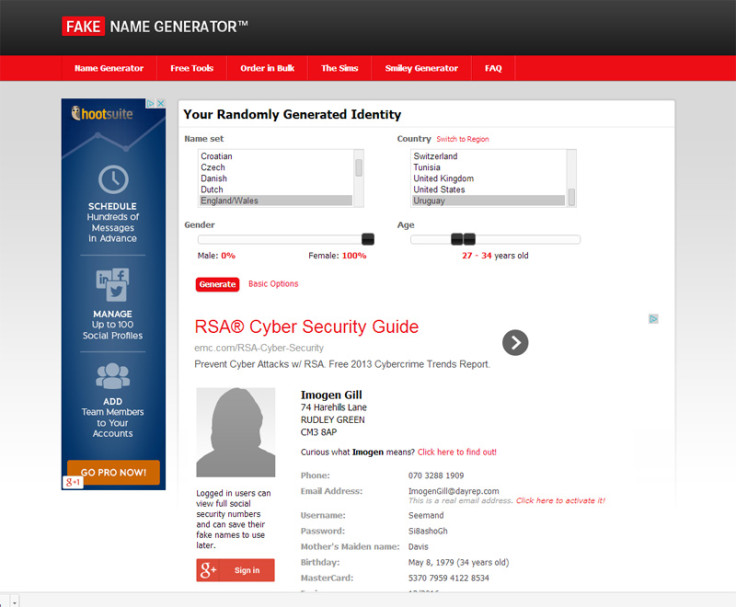 Software developer Jacob Allred earns his living by offering ad-supported websites that generate billions of fake identities for free and, surprisingly, this is completely legal.
Allred, a former missionary for the Mormon Church of Jesus Christ of Latter-day Saints (LDS), has put his software engineering skills to good use by building fake data generator websites, such as Fake Name Generator, Social Security Number Registry and Fake Mail Generator.
Fake Name Generator has a whole host of useful tools, including a generator which creates everything you need to become a new digital individual, from a new name, credit card number, mother's maiden name, phone number to social security number, address and even physical statistics.
You can even order the identities in bulk and 31 countries are currently supported. The website receives three million hits per month, and the advertising revenue Allred earns from site visitors is enough for him to live comfortably with his wife and child and afford a nice house in Texas.
The FBI and the NSA have both investigated the practising Mormon for identity theft over the last few years, even though Allred has explained that the data is all fake, and that the social security number generator website is just a prank that leads people to pictures of chimpanzees when they try to look up numbers.
The NSA even called him up in 2013 to ask him if he knew anything about a batch of 50,000 stolen names.
"There are a lot of people very uncomfortable about it. Some people think I am a horrible person contributing to identity theft," Allred told Forbes.
"I'm not doing anything illegal, I'm generating fake information. I explained to [the investigators] it was all fake data."
So how is this legal?
The websites are powered by databases of information that Allred has programmed to randomly generate new details, including lists of last names, plausible street addresses, valid area codes and prefixes for telephone numbers from 31 countries (the phone numbers themselves are randomly generated and put together with real prefixes).
However, the credit card numbers generated do not work and are from banks that either do not exist or have gone out of business. Similarly the social security numbers (applicable only to the US) follow a pattern different from that of actual social security numbers.
There are lots of legitimate uses for fake data – researchers and companies creating solutions and software to process or protect data need test data for trials, such as software engineers testing database systems for administration software and it's against the law to use real data for testing.
The information could also be used by someone wanting to generate a false identity for use on the internet, so that their real life can be kept separate from their internet life, or by people looking for character names to use in creative projects like books or video games.
Allred says that he used to work full-time as a director of software development for an internet media company and that it took a lot of hard work for him to be able to become self-employed.
"I didn't get where I am overnight. It takes a lot of work to be successful on the internet. Some websites will make you a lot of money. Most won't. For me, it took several moderately successful websites to earn enough money to let me quit my day job," he writes on his personal website.
© Copyright IBTimes 2023. All rights reserved.