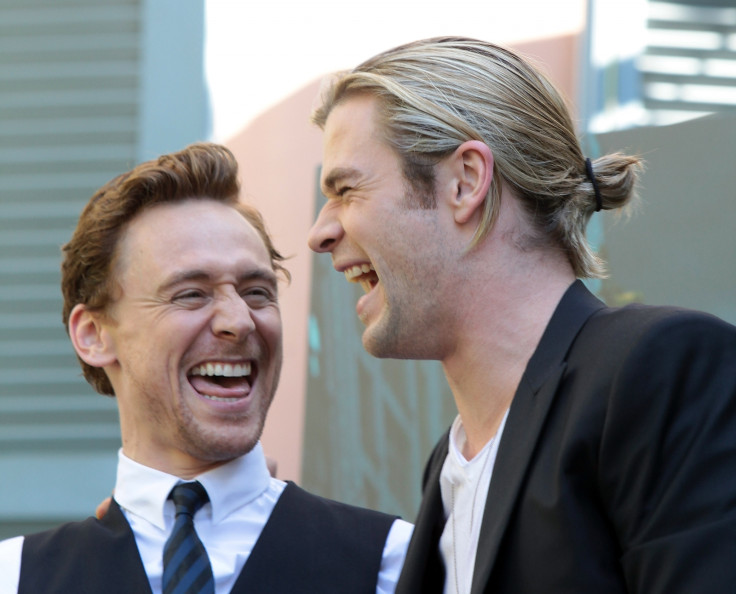 Thor and Loki may be rivalling siblings onscreen but the two other-world gods put aside their differences to spend some time meeting with the 'real superheroes of the world'. The actors behind the two characters Chris Hemsworth (Thor) and Tom Hiddleston (Loki) visited Lady Cilento Children's Hospital in Brisbane, Australia to surprise the young patients and their families.
Hemsworth carried his trademark hammer Mjolnir as he and Hiddleston joked around with the children and posed for photos. In a 23 August Instagram post, The Huntsman actor wrote: "Met the real superheroes of the world at @ladycilentochildrenshospital. A huge shout out to all the brave kids who are an inspiration to all of us!"
Calyn Hoad, one of the patients, who received a bravery medal in Canberra for pushing his younger brother out of the way of an oncoming car in 2013, was thrilled to meet his onscreen idol, Thor. "It was so awesome. Calyn's face just lit up. It was just magic, absolute magic," his mother, Sharna told ABC of the visit which was organised by the Children's Hospital Foundation and Juiced TV.
"I can't express it any other way than saying it was magic. What brilliant men to come down," she added.
Filming for Thor: Ragnarok, the third film in the Marvel franchise, took place on the Gold Coast before moving to Brisbane. Sir Anthony Hopkins, who plays Odin, Thor's father in the movie series, joined the cast this week. The film is expected to release in October 2017.
Earlier that day, Hemsworth also posted an adorable photo in which he is seen meeting fans and shaking hands with one young boy dressed in a Captain America costume replete with a mini shield. The actor took a dig at fellow Marvel superhero actor Chris Evans with a caption which read: "Chris Evans chose not to work out for the next Avengers movie, all good he's still awesome." He even added a hashtag #youthfulskin to the post.