Thousands of Germans line the streets of Hannover to protest TTIP deal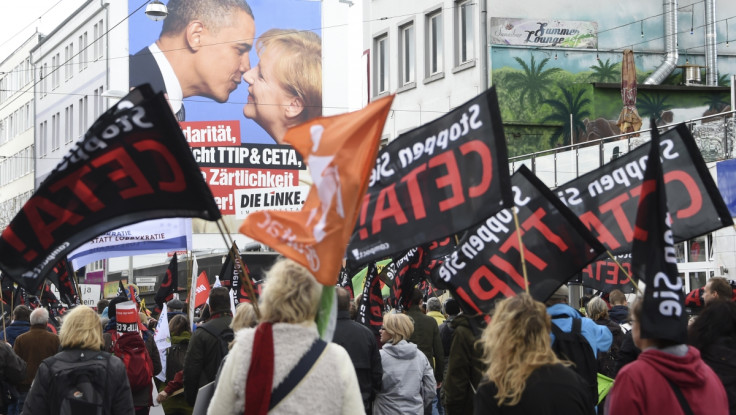 German protesters turned out in full force to voice their anger over the proposed Transatlantic Trade and Investment Partnership (TTIP) deal between the US and EU. The mass demonstration in Hannover saw an estimated 35,000 people march in protest just a day ahead of President Barack Obama's visit to the city to open a trade fair.
Critics of the deal are unhappy about the lack of transparency and fear that it could pose a threat to Germany's environmental and legal standards. "The TTIP between the American continent and Europe is very dangerous for the democracy, for our nature and for the rights of the workers," demonstrator Florian Rohrich told the BBC.
"The rights in America for workers are much lower. It's like the Trojan horse. They can't change our whole system. But they will – because TTIP is written by the groups, by the companies, not by the politicians," Rohrich added.
TIPP objection
Despite the huge turnout, the rally was described as peaceful. Participants carried banners with slogans reading "Yes We Can – Stop TTIP!" and one Greenpeace member even dangled from a crane to drive the message home.
The free trade agreement has little support in Germany, with only one in five Germans in favour of TTIP, a survey conducted by the Bertelsmann Foundation found. Conversely, only 18% of the US population oppose the TTIP. Both Obama and German Chancellor Angela Merkel insist that the agreement will boost growth on both sides of the Atlantic.
The results from

the Bertelsmann Foundation

reveal a huge decline in support for free trade. "Two years ago a significant majority of 88% favoured free trade in general," the organisation noted. "According to the latest poll, this approval has tumbled. Currently, only about half of Germans still consider

free

trade a good idea. More than a quarter reject it entirely. Approval of the TTIP has also suffered in recent years: 55% were in favour in 2014 and 25% against."
Merkel defends deal
In a video statement on 22 April, Merkel assured Germans that the TTIP would not trample on citizens' rights. "We don't want people to have the impression that something is being hushed up here, or that norms are being undermined. The opposite is true," the German leader was quoted as saying by AFP news agency.
The 13th round of TTIP negotiations are due to get underway in New York on 25 April. Officials on both sides of the continent are hoping to agree key aspects of the deal before the end of the year.
© Copyright IBTimes 2023. All rights reserved.